City Marshal James Dean Jr. completes level 3 certification in the GACE Certificate Program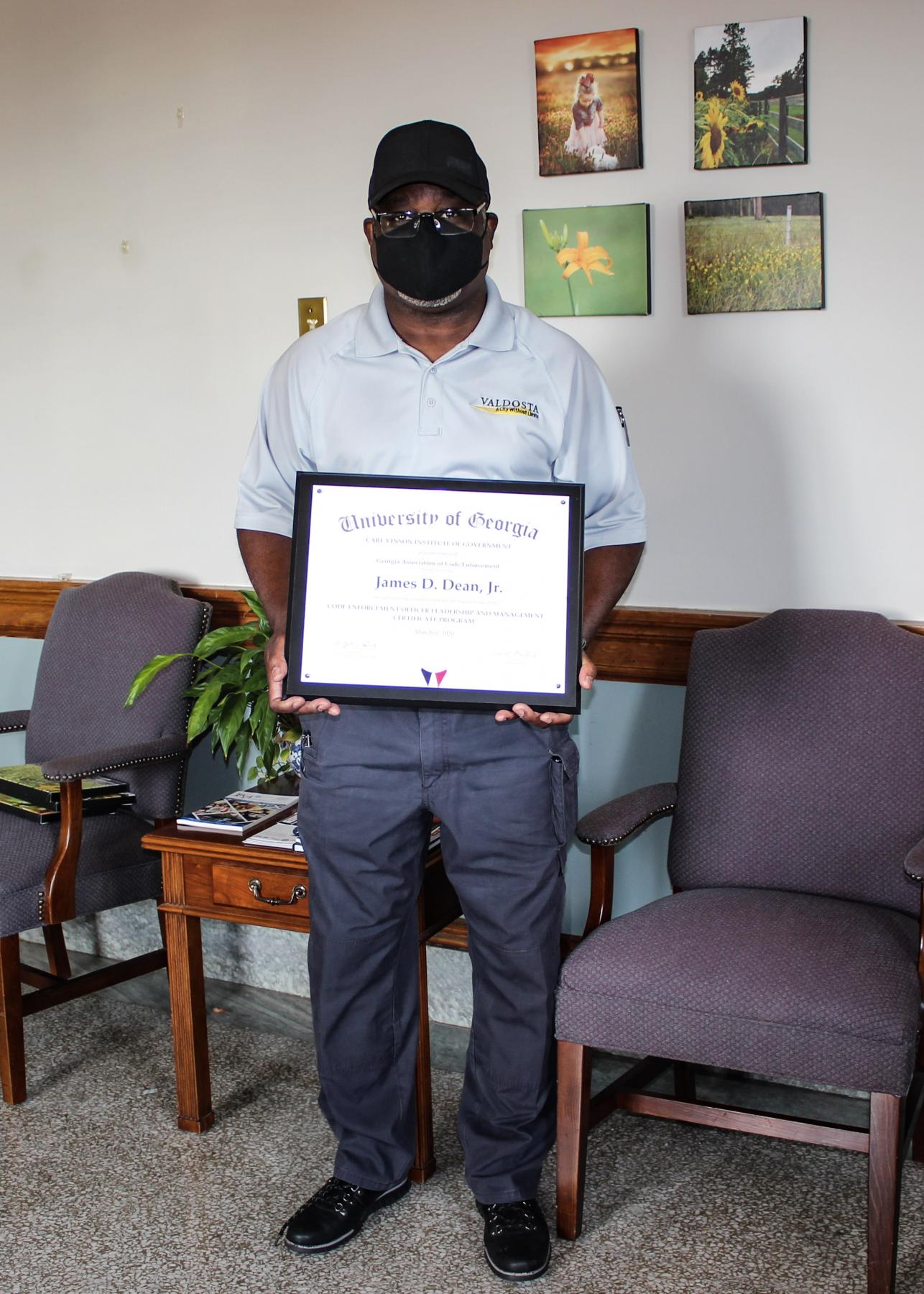 James Dean has worked with the City of Valdosta for 21 years as a City Marshal in the Community Protection Division. During this time, he has completed all three GACE Certificate Program levels, which has taken an estimated seven years and 165 hours to accomplish. This certification is not a requirement for Mr. Dean's position; however, by completing the program, he has expanded his knowledge within code enforcement and management.
Mr. Dean started his career with the City of Valdosta in September of 1999. Since that time, he has been promoted to Senior City Marshal. As a Senior Marshal, he is responsible for supervising the four other City Marshals and their continuing education, write-ups, and accountability. He is also the only Marshal that can present cases in court. In addition to his daily responsibilities, James Dean decided to enroll in the GACE Certificate Program to keep up with his continuing education credits.
The GACE Certificate Program is offered through the University of Georgia's Carl Vinson Institute. The program is set up in a three-tier system. The first two levels consist of 45 hours of course work each, a written exam for both levels in which the participant must score a 70 percent or above to pass, and six conferences the participants must attend. After completing the first two levels, the participant can move on to the third and last level, consisting of 75 hours of course work in leadership and management, a final written assignment, and attendance at five additional conferences. Though the course work is extensive and time-consuming, James Dean believes the payoff is greater than the costs, saying, "The Level 3 certification helps to validate me as the Senior Marshal as I have taken every course the University of Georgia's Carl Vinson Institute offers for code enforcement."
Currently, Mr. Dean is one of five City Marshals, all of which are at various stages within the GACE Certificate Program. Mr. Dean is the first and only to complete all three levels. He is excited and relieved to be at this point in his career but is still looking ahead to what he can accomplish next. "It feels like I have done everything I am supposed to do, and that just solidifies it to have something on the wall that says I can manage and teach code enforcement," said Dean. Upon completing the third level, James Dean can now teach code enforcement courses, which he has and will continue to do.