Cross-Connection Control Program
Ronnie Lancaster, Backflow Prevention Program Coordinator
On December 10, 2009 the City of Valdosta unanimously approved an Cross Connection Control and Backflow Prevention Ordinance to amend the code of the City of Valdosta, Georgia concerning cross-connection control and backflow prevention.
The goal of the Cross-Connection Control Program is to prevent backflow from the customer's water system from entering into the City water distribution system.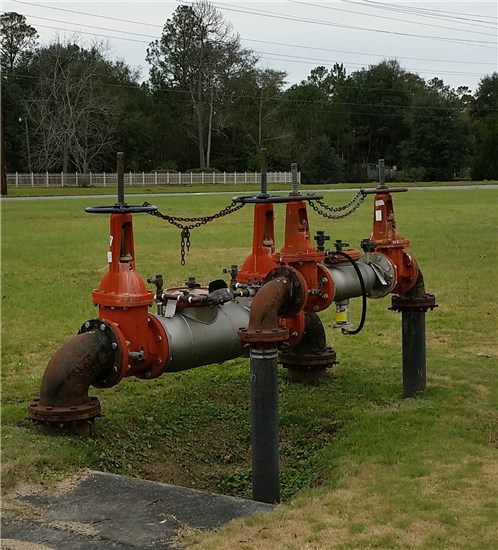 The City of Valdosta Utilities Department has the responsibility of protecting the public water systems against backflow. This responsibility begins at the water supply source, which includes all of the public water distribution system, and ends at the water meter to the customer's property or system. The Utilities Department is not responsible for abatement of cross-connection within a customer's property, but rather undertakes reasonable precautions to protect the public water system from backflow through such cross-connections. These cross-connections can pose a hazard if contaminated water from a customer is forced back into the public water supply. This is called backflow. Taking reasonable precautions includes ensuring that proper backflow preventers are installed, maintained, and inspected at water service connections where appropriate.
Notice to Customers and Installers
Ownership of the backflow assembly and responsibility for testing, maintenance, and proper operation are that of the property owner.

The City of Valdosta Utilities Department neither accepts responsibility nor liability for the backflow assembly being tested, maintained or operating properly.

Installation of a backflow prevention assembly on a service line creates a closed system. Provisions should be made for thermal expansion in the customer's system.

The City of Valdosta Utilities Department recommends you winterize your backflow device to protect it from a frost or freeze, should it occur. The responsibility of protecting the backflow device is that of the customer.
Backflow Preventers Q & A
Downloadable Material
Educational Links
Assistant Director of Utilities
Location
1016 Myrtle Street
Valdosta, Georgia 31601
Upcoming Events
10/26/2023 -

5:30pm

to

7:30pm
Repeats every month on the first Friday 12 times.
10/06/2023 -

5:00pm

to

8:00pm
11/03/2023 -

5:00pm

to

8:00pm