Fire Prevention Week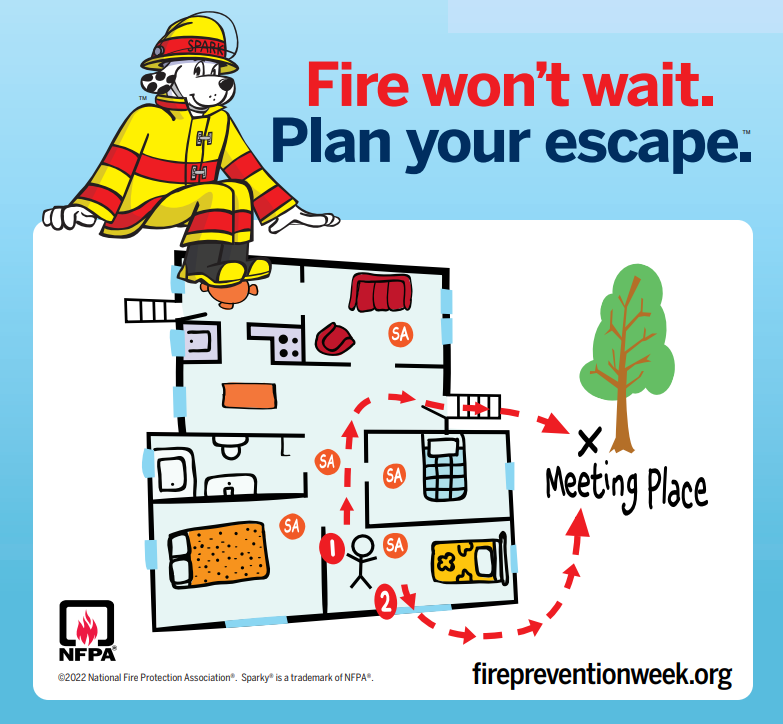 The Valdosta Fire Department teams up with the National Fire Protection Association® (NFPA®)—the official sponsor of Fire Prevention Week for more than 90 years—to promote each year's Fire Prevention Week.
2022 Campaign
NFPA® and the Valdosta Fire Department celebrate the 100th anniversary of Fire Prevention Week™ (FPW). This year's FPW campaign, "Fire won't wait. Plan your escape™", works to educate everyone about simple but important actions they can take to keep themselves and those around them safe from home fires.
Today's homes burn faster than ever. You may have as little as two minutes (or even less time) to safely escape a home fire from the time the smoke alarm sounds. Your ability to get out of a home during a fire depends on early warning from smoke alarms and advance planning.
"It's important to learn the different sounds of smoke and carbon monoxide alarms. When an alarm makes noise—a beeping sound or a chirping sound—you must take action!" said Sherina Ferrell, Fire & Life Safety Educator. "Make sure everyone in the home understands the sounds of the alarms and knows how to respond. To learn the sounds of your specific smoke and carbon monoxide alarms, check the manufacturer's instructions that came in the box, or search the brand and model online."
Family's Home Safety Action Plan English Here
El Plan de acción de seguridad del hogar de la Familia Espanol aqui
Plan de escape de muestra Espanol aqui
Home fire escape planning and practicing
It is important for everyone to plan and practice a home fire escape. Everyone needs to be prepared in advance, so that they know what to do when the smoke alarm sounds. Given that every home is different, every home fire escape plan will also be different.
Have a plan for everyone in the home. Children, older adults, and people with disabilities may need assistance to wake up and get out. Make sure that someone will help them!
Smoke alarms
Smoke alarms sense smoke well before you can, alerting you to danger. Smoke alarms need to be in every bedroom, outside of the sleeping areas (like a hallway), and on each level (including the basement) of your home. Do not put smoke alarms in your kitchen or bathrooms.
Choose an alarm that is listed with a testing laboratory, meaning it has met certain standards for protection.
For the best protection, use combination smoke and carbon monoxide alarms that are interconnected throughout the home. These can be installed by a qualified electrician, so that when one sounds, they all sound. This ensures you can hear the alarm no matter where in your home the alarm originates.
To find out more about Fire Prevention Week programs and activities in Valdosta please contact the Valdosta Fire Department at 229-333-1835. For more general information about Fire Prevention Week and cooking fire prevention, visit www.fpw.org.