Valdosta On Demand

Introducing Valdosta On-Demand.
Fast, easy, affordable rides around town.
Download the Valdosta On-Demand app to get started

Valdosta On-Demand is a public, on-demand transit service. Think of us like a minibus that comes when you want, where you want — give us your pickup and dropoff addresses, and we'll provide a few ride options. Choose the one that works best for you and we'll send a driver your way.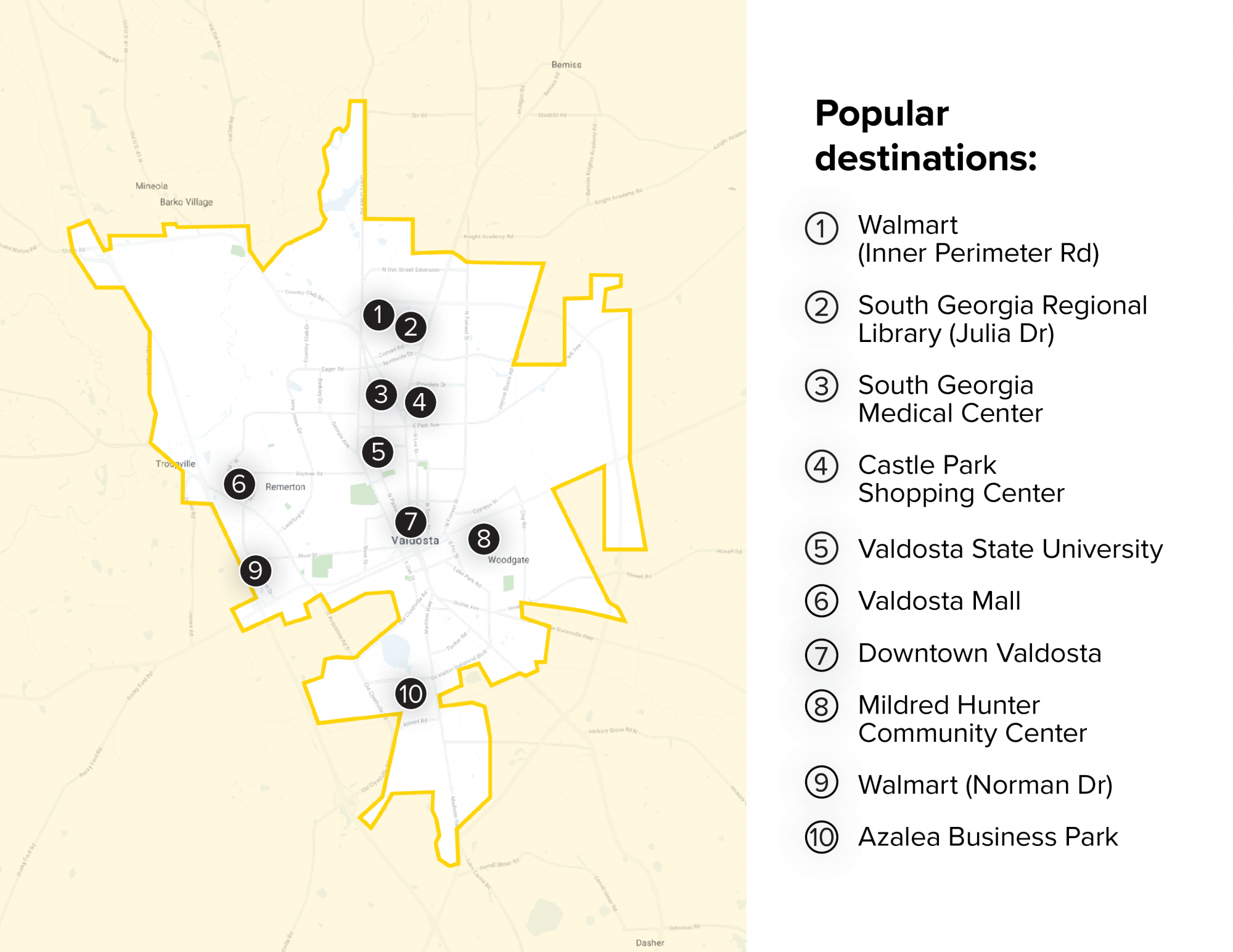 Service hours: Monday-Friday 5:30am-9pm.
Price: $2 per trip, $1 for each extra passenger.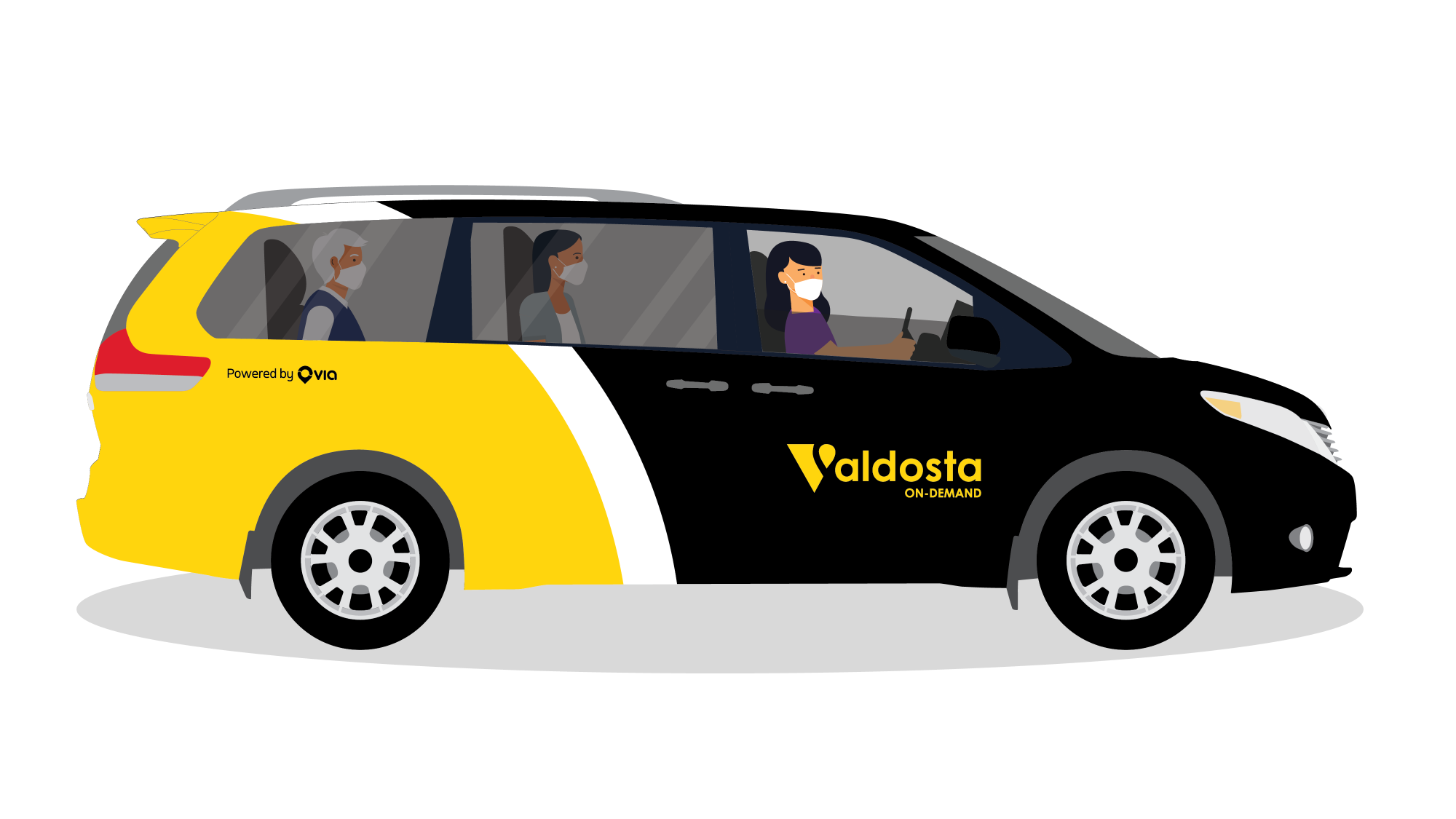 How to create an account:
Search "Valdosta On-Demand" in the App Store or Google Play store and tap the download icon.
Open the app, press Get Started, and enter your personal info.
Enter your credit or debit card info
Questions? Get in touch:
Email: support-valdosta@ridewithvia.com
Phone: (229) 441-2940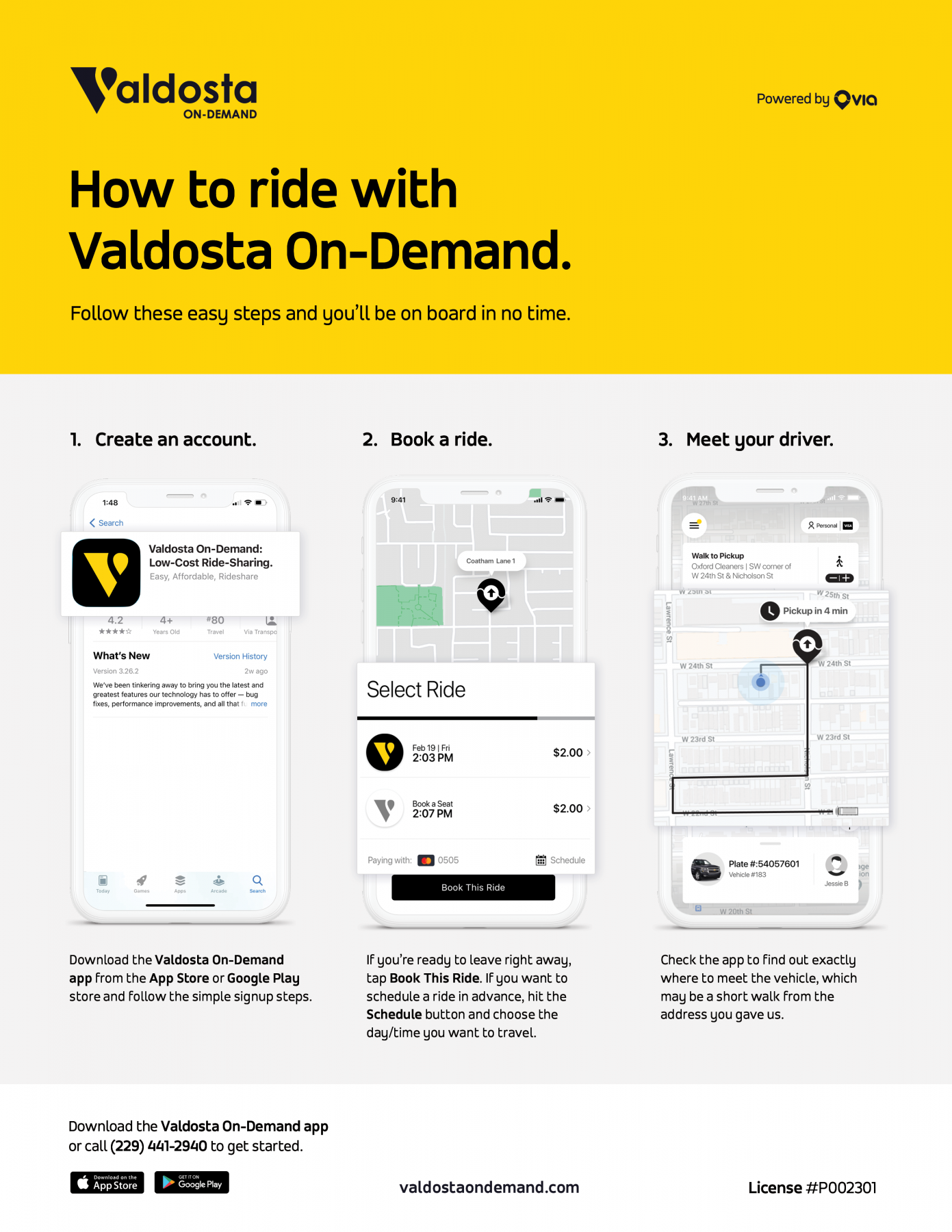 How to book a ride:
Create an account. Download the Valdosta On-Demand app from the App Store or Google Play store and follow the simple signup steps.
Book a ride. Enter your pickup and dropoff addresses and choose the ride option that works for you — if you're ready to leave right away, tap Book This Ride. If you want to schedule a ride in advance, hit the Schedule button and choose the day/time you want to travel.
Meet your driver. Check the app to find out exactly where to meet the vehicle, which may be a short walk from the address you gave us.
Safety measures Valdosta On-Demand is taking to lessen COVID-19 exposure.
We're working hard to ensure that every trip you take is as safe and worry-free as possible. Here is what we've put in place:
Face masks required. Everyone on board is required to wear a face mask or face covering. Passengers not wearing a face mask may be refused service.
Wellness checks. In-app wellness checks help make sure passengers and drivers are symptom-free and ready to ride before they get going. Please stay home if you have either been diagnosed with COVID-19, think you're exhibiting symptoms, or have been in contact with someone who has recently tested positive.
Limited vehicle capacity. Vehicle capacity is limited in accordance with social distancing guidelines. Additionally, in vehicles with automatic doors, please wait for the driver to open and close the door to avoid touching the handles.
Regular vehicle cleaning. Vehicles are being professionally cleaned regularly, and we've provided drivers with cleaning supplies in order to perform frequent and thorough wipe-downs of the vehicle interior, with extra focus on common surfaces and high-contact areas. They're also equipped with plastic partitions between drivers and riders.
View the Public Participation Plan here. Spanish version here.
P