Residential Sanitation Services
**Yard Debris Hurricane Idalia Update**
We understand that Hurricane Idalia has been a difficult time for all of us, and we want to do everything we can to make things easier. Public Works has brought in outside assistance to help with debris removal as part of the ongoing hurricane cleanup efforts. With this additional help, we hope to get things back to normal as quickly as possible.
What you should know:
Please move debris to the right-of-ways without covering water meters, fire hydrants, or sewer and stormwater manholes.
Please do not mix yard debris with sanitation.
You are strongly encouraged to cut down yard debris to six-foot sections for efficient removal.
Debris removal teams will make several passes through each area and rotate throughout the city to ensure all debris is collected.
Private subdivisions should deposit yard debris in one central location for collection coordinated with private subdivision HOA representatives.
Thank you for your understanding and support as we work together to recover from this disaster. We are proud to be part of such a strong and resilient community, and we know that we will get through this challenging time together.
NOTE: Yard trash piles that contain litter or other forms of garbage or piles larger than 4 ft x 8 ft. x 5 ft. will be assessed with a $45.00 fee. Piles larger than 6 ft. x 10 ft. will be assessed with a $90.00 fee.
The Residential Sanitation Division services over 21,000 residential customers, providing once-a-week collection of garbage, yard trash, and bulk items. Each is picked up by a different truck and at different times. The monthly fee for residential pickup is $22.00. Special pick-ups do not require a call-in.
To sign up for residential service, please get in touch with the Customer Service Division of the Finance Department at 229-259-3510. The Customer Service Division is located at 102 N. Lee Street.
To inquire about your collection day, to order a roll-out, to report a missed garbage, bulk-item pickup, or to report a dead animal, please call the Public Works Dispatch Office at 229-259-3590.
For questions regarding your sanitation charges, call 229-259-3588.
For questions regarding your water bill, call 229-259-3510.
For any other public works related concerns, call 229-259-3585 or 229-259-3588.

The Sanitation Division will only collect residential garbage

(green rollouts)

on holidays.
Household garbage is not collected on Christmas Eve or Day. It will be collected the next day.*
Junk Items and yard waste will be collected the following business day.
Residential Garbage Collection
Residential household garbage is collected once a week, Monday–Friday. Household garbage is not collected on Christmas Day or Eve. On these holidays, your garbage will be collected on the next day.
All garbage must be bagged and securely tied. Excess garbage must be containerized in an additional can. Your container should be placed at the curb between 12 p.m. the previous day and no later than 5 a.m. the morning of your collection day, and your empty container must be removed from the curb no later than noon the day after your collection. Failure to remove your roll-out from curbside may result in a $10 fine for each day your roll-out remains curbside.
Remember that workers collect household garbage, so please properly dispose of these items. Glass can shatter and cut, medical waste can transmit diseases, and chemicals can burn or blind.
One roll-out is provided for each residence free of charge. All roll-outs are assigned by address and are the property of the City of Valdosta. If you should move, the roll-out must remain at your former residence.
Report stolen containers to the Valdosta Police Department office by calling 229.242.2606. Once you receive a case number, please get in touch with our Customer Service Division for a replacement roll-out at 229-259-3590.
Walk Up Service
If you are unable to place your container out due to a physical limitation, we offer a "walk-up" service. This service is provided to the elderly or any customers who may have disabilities or handicaps that prevent them from being able to roll out their containers. Our staff will walk up to the residence, roll out the container, dump it, and return it. To qualify, your doctor must provide a letter on his/her letterhead stating that your condition prevents you from rolling your container to and from the curb. This information can be mailed to our office or faxed to 229-259-5447.
Once we receive written documentation, a yellow arrow will be painted at your residence's curb, and your information will be added to the list of our special services.
Recycling
The City of Valdosta encourages residents to reduce, reuse and recycle. Due to COVID-19, the curbside recycling program has been suspended. City residents can continue to recycle by using one of our three recycling drop-off sites. The sites are located at:
1) Five Points Shopping Center
2) City Lot on Hill Avenue (1025 W Hill Avenue)
3) City Lot at corner of South Lee Street and East Savannah Avenue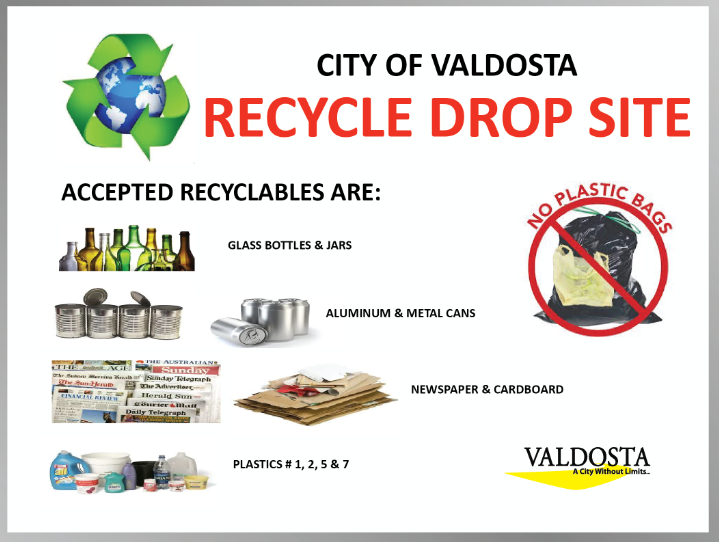 Residential Yard Trash
Yard trash is also scheduled for pickup on the same day as your garbage collection. Yard trash includes plant clippings, tree branches, grass clippings, and leaves and can be placed in bags, boxes, or any other container. Place this trash on the curb or city right-of-way (not in the street or gutter) next to your green roll-out. The maximum length of limbs is 4 feet long and 4 inches in diameter; limbs cannot exceed 35 pounds. Do not mix with garbage, litter, or other rubbish.

NOTE: Effective August 1, 2018, the residential rates will increase by $2.50 per month. The last rate adjustment was in 2015 and remains lower than in other cities. This residential rate adjustment reflects the increase in materials and operational materials.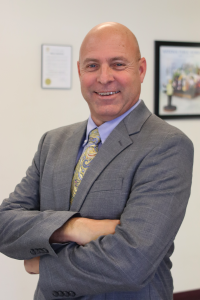 Location
1017 Myrtle Street
Valdosta, GA 31601
Upcoming Events
10/26/2023 -

5:30pm

to

7:30pm
Repeats every month on the first Friday 12 times.
10/06/2023 -

5:00pm

to

8:00pm
11/03/2023 -

5:00pm

to

8:00pm