Report a Concern
Thank you for your concern. Valdosta Click 'N Fix, powered by SeeClickFix, is a web tool that allows citizens to report non-emergency issues which are then communicated directly to the appropriate city department or division (Watch short video). Please use this app to report issues such as: potholes, sidewalk damage, drainage and flooding issues, street or traffic lights, hazard trees or limbs down, broken street or traffic signs, litter, etc.
Citizens have the option of uploading a photo with each service request to visually communicate the issue to city staff. Citizens also have the option of reporting a concern anonymously.
From Your Desktop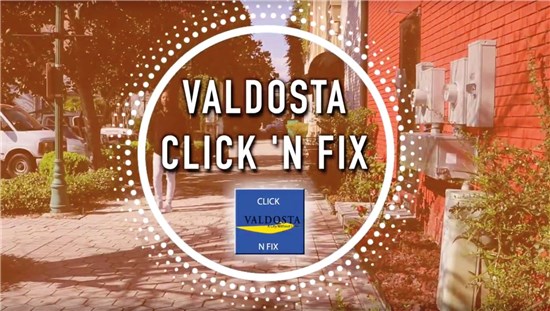 The application above allows you to make service requests and discover existing issues that have been reported. Click on the instruction video to the right to see how easy it is to use this app. To report an issue, simply:
Select the Report tab.

Drag the map marker to the location of your issue, or type in the address directly.

Click Next.

Choose a service request Category from the drop-down menu that matches your issue.

Enter a Title (required), additional Description (optional), and attach an Image (optional).

Click submit.
From Your Mobile Device
Valdosta Click 'N Fix is available for download as an app on the following platforms. Please download the appropriate app to begin using the Valdosta Click 'N Fix tool on your mobile device.
Support
Thank you for taking the time to report a concern to city staff via Valdosta Click 'N Fix. Once you have reported an issue, you will receive an email message acknowledging that your service request has been received by city staff. You may continue to check on the status of the issue online. However, once the work is completed, you will be notified by city staff via email that the issue has been resolved.
Please note that Valdosta Click 'N Fix should NOT to be used for emergencies. For urgent matters that require immediate attention or a police response, call 9-1-1.
For technical support with the SeeClickFix platform (web or mobile), email contact@seeclickfix.com directly.
Thank you for caring about your city and for taking the time to report your concerns to us. We seek to resolve these issues, answer your questions and provide solutions as quickly and efficiently as possible.