Bureau of Investigative Services
The Investigative Bureau, located on the second floor of the police headquarters, is manned by 29 dedicated men and women assigned as detectives and civilian employees in seven areas of expertise. These areas consist of the Person's Crimes Unit, Property Unit, Burglary Unit, Narcotics Unit, Gang Unit, FBI Joint Terrorism Taskforce, Property/Evidence Section, and the Administrative Function.
The overall goal of the Investigative Bureau is to provide premiere investigative services to the citizens of Valdosta by maintaining a clearance rate for all FBI Part 1 Crimes at or above the national average. The bureau follows all investigative leads until the case is cleared or until all leads have been exhausted.
Person's Crimes Unit
Investigates homicides, rapes, all facets of robberies, aggravated assaults, batteries, and any crime committed against a person which requires follow-up investigations.
Property Crimes Unit
Investigates incidents relating to crimes committed against property such as theft, fraud, identity theft, and other crimes against property which require follow-up investigations.
Burglary Unit
Investigates all burglaries and motor vehicle thefts, which require follow-up investigations.
Narcotics Unit
Investigates crimes involving the use and/or possession of illegal drugs and other substances. In addition, the Narcotics Unit investigates issues involving vice and organized crimes such as prostitution, pandering, pimping, and gambling.
Gang Unit
The unit is part of a Federal Gang Taskforce headed by the Federal Bureau of Investigations (FBI) and is responsible for the investigation of cases involving gang related activities and events.
FBI Joint Terrorism Taskforce
One detective is assigned to the Federal Bureau of Investigations (FBI) Joint Terrorism Taskforce. The detective's responsibilities include working with the FBI in identifying any terrorism activities an events.
Property/Evidence Section
This section consists of two civilians who are responsible for receiving, safeguarding, and maintaining chain of custody of all property and evidence received by the entire police department.
Administrative
This aspect of the bureau consists of the Bureau Commander, Lieutenant, and one civilian secretary.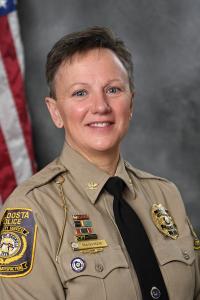 Location
Valdosta Police Department
500 North Toombs Street
Valdosta, Georgia 31601
Upcoming Events
Repeats every month on the first Friday 12 times.
12/01/2023 -

5:00pm

to

8:00pm
01/05/2024 -

5:00pm

to

8:00pm
02/02/2024 -

5:00pm

to

8:00pm