Police Department

As an accredited law enforcement agency, the Valdosta Police Department is operating at the highest level of national law enforcement standards. Maintaining the highest standards and continually advancing and improving our capabilities, the department provides a family-friendly and safe environment for citizens of Valdosta and all who come to our city.
In 2015, the department attained "Triple Crown Accreditation" by attaining three voluntary accreditations, two for law enforcement and one for crime laboratory.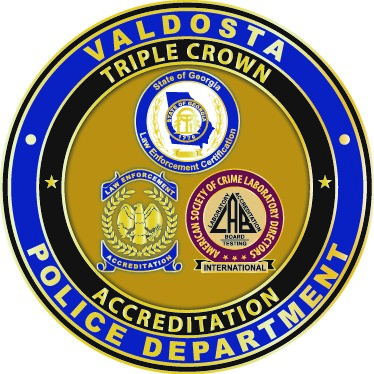 The department maintained the status of Law Enforcement Accreditation through the Commission on Accreditation for Law Enforcement Agencies (CALEA). This is an accreditation process which examines all aspects of the Valdosta Police Department's policies and procedures, management practices, daily operations and support services, as part of a voluntary process to maintain international accreditation. The department has been internationally accredited since 1999 and complies with 484 standards for professionalism and service delivery in the field of law enforcement. During the last assessment inspection, the department was honored with the "Accreditation with Excellence" and "Meritorious Distinction" awards because the department has been accredited for 15 years. For the last four onsite inspections, the Valdosta Police Department was named a "Flagship Agency" twice and received "Accreditation with Excellence" twice.
In addition, the department is also assessed every three years by the State of Georgia Law Enforcement Certification Program through the Georgia Association of Chiefs of Police (GACP), which is a separate voluntary program similar to CALEA. The department has been a state certified law enforcement agency since 1999.
As Valdosta continues to grow as a regional center, the Valdosta Police Department continues to prepare and evolve into a regional response law enforcement agency. Working closely with local, state and national agencies, we have expanded our methods and practices, and capabilities to stay informed, and to provide increased security in the areas of drug enforcement and homeland security.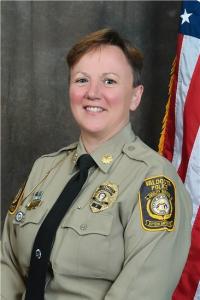 Location
Valdosta Police Department
500 North Toombs Street
Valdosta, Georgia 31601
Upcoming Events
03/07/2020 -

8:00am

to

11:00am
07/16/2020 -

5:30pm

to

8:30pm
07/29/2020 -

2:00pm

to

8:00pm