Governor Kemp's Executive Order - What We Know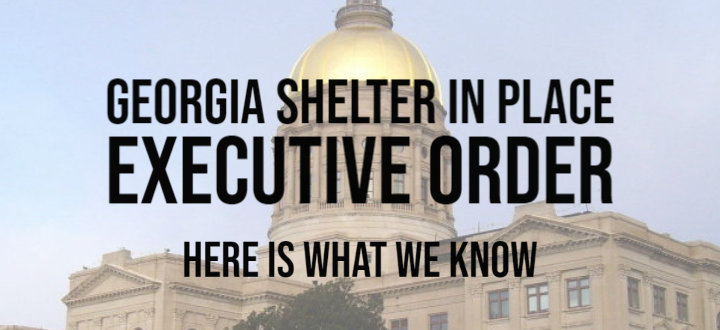 Governor Kemp's shelter-in-place order went into effect on Friday, April 3 at 6:00 p.m. and extends through Thursday, April 30 at 11:59 p.m.
The order states residents must stay home unless engaging in essential services, performing necessary travel, performing minimum basic operations, or are those part of the critical infrastructure work force.
Restaurants may continue take out, curbside pick-up or delivery of food but no dine in services.
Essential Services means obtaining necessary supplies or services for your household. This includes traveling to the grocery store, medical appointments, and pharmacies. You may also travel to pick up food or have it delivered to your house. You may also leave your house in the event of an emergency.
Residents can still go outside for exercise activities such as taking a walk, playing in the yard, walking your dog, etc. Stay at least six feet away from others, even when outside.
What businesses and professionals must cease in-person operations and close to the public during this time?
• Bars
• Nightclubs
• Gyms
• Fitness centers
• Bowling alleys
• Theaters
• Live performance venues
• Dine-in services at restaurants and private social clubs (Exceptions include take-out, curbside pickup and delivery, as well as dine-in services at hospitals, health-care facilities, nursing homes or other long-term care facilities)
• Estheticians (ex. waxing, threading, eyelash extensions, cosmetic treatments
• Hair designers
• Tattoo parlors
• Beauty shops and salons (including home shops)
• Barber shops (including home)
• Cosmetology schools
• Hair design schools
• Barbering schools
• Esthetics schools
• Nail care schools
• Licensed massage therapists
Necessary travel means the travel required for someone to conduct or participate in essential services, minimum basic operations, or work for Critical Infrastructure.

More Info On Gov. Kemp's Executive Order:
Governor Kemp's Executive Order
Governor's Office COVID-19 Information
Critical Infrastructure Information
Gov. Kemp Issues Guidance for Retailers, Consumers Amid COVID-19

On Sunday, April 5, Governor Brian P. Kemp joined the American Transaction Processors Coalition, Georgia Retail Association, and Georgia Food Industry Association in issuing guidance regarding the use of PIN numbers and other best practices at points of purchase as Georgia continues to fight the spread of COVID-19.
Consumer Tips:
• If a contactless payment option is available (e.g., Apple Pay, or tap and pay), use it.
• Clean your payment cards using soap, hand sanitizer, or alcohol after each use.
• Maintain control of your card, whenever possible, rather than handing it to the merchant.
• If asked for a signature, PIN, or other information at the payment terminal, use your own pen (for signing) or personal stylus (for touchscreens) if you can.
• If using home delivery services, pay in advance through a website, app, or telephone.
Merchant and ATM Owner Tips:
• Merchants and ATM owners are encouraged to clean and disinfect terminals frequently and implement some changes to the payment process to reduce consumer interaction with equipment.
• Follow manufacturer guidelines to protect and care for payment terminals.
• Use 60% or higher alcohol-based hand sanitizer, card reader cleaners, alcohol-based disinfectant wipes (NO BLEACH), or glass cleaner.
• Clean checkout and payment terminal area frequently (or after each transaction, if possible). Consider all checkout touch points (e.g., payment terminal including PIN pad, check lane counter and merchandise dividers, self-checkout lanes).
• When cleaning the terminal, do not clean the electrical connections and plugs.
• Never spray any product directly onto the terminal. Use a cloth or wipe that has been sprayed instead.
Governor Kemp's shelter in place order allows for the suspension of the use of PIN pads, PIN entry devices, electronic capture signature, and any other credit card receipt signature requirements if it is permitted by underlying credit card agency and company agreements. Retailers should ensure EBT card users can continue to access PIN pads to enter this information during transactions.
Reporting
Please do not call 911 in response to Governor Kemp's order. 911 cannot answer your questions and should be used for emergencies only. You may reach out to the state for answers by accessing the link below.
If after carefully reading the guidelines, you are unclear as to whether your business meets the guidelines in Governor Kemp's executive order as defined by "critical infrastructure," you can complete this form through Georgia Department of Economic Development - https://bit.ly/2X7W7OK
Under this order Local Governments do not make the determination on whether a business should remain open.
Specific questions regarding COVID-19 should be directed to the Georgia Hotline by calling 844-442-2681.
Updates will be provided as specific guidance from the Governor's Office is received.
Learn more about our response to COVID-19.
A curfew is NOT in place at this time.
The City of Valdosta remains open for business and is here to serve you.