Public Works Departments Emphasizes the Importance of Placing Sanitation and Yard Debris out the Day Before your Scheduled Pick-up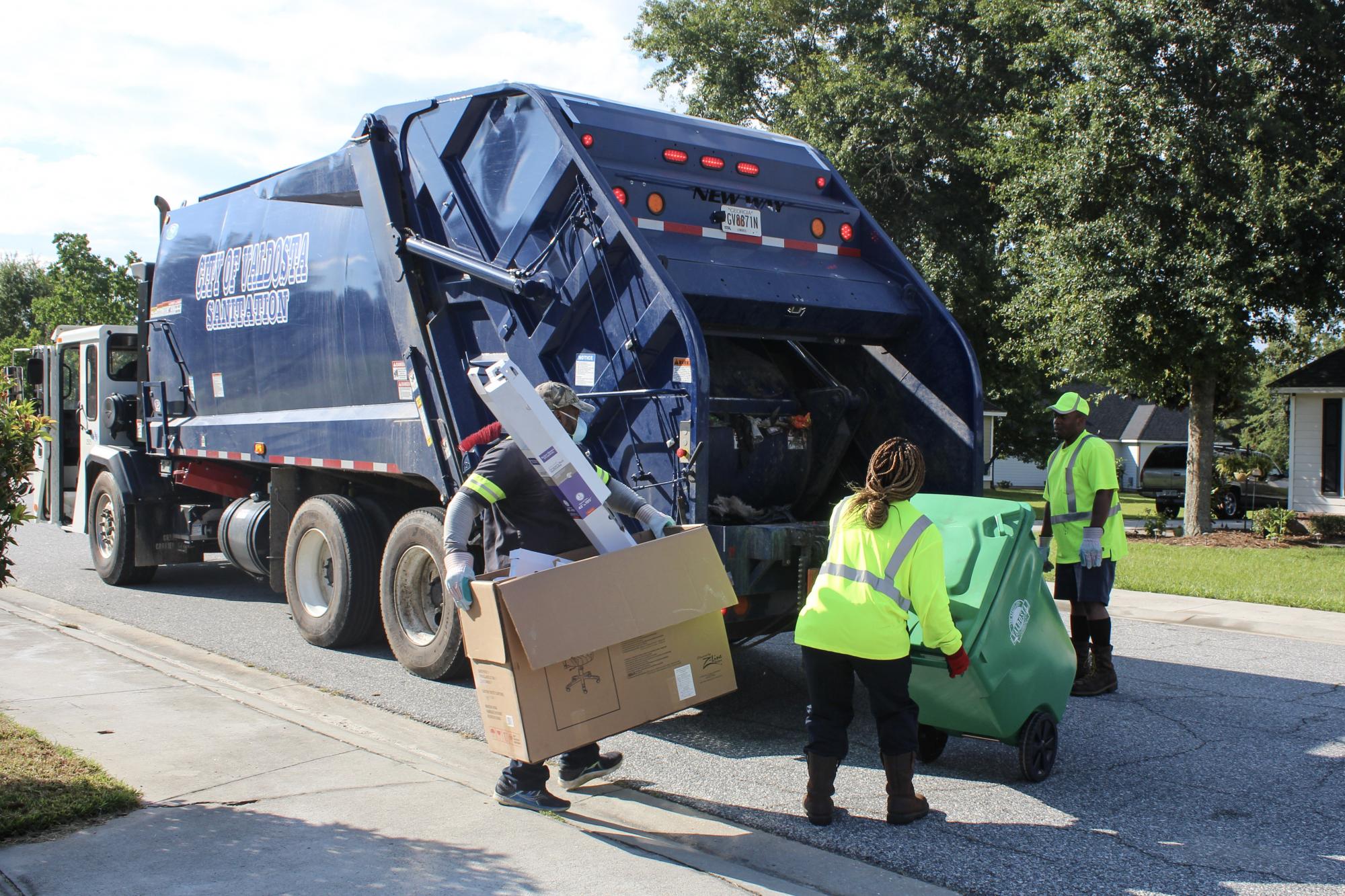 The City of Valdosta's Public Works Department has five separate sanitation routes Monday through Friday of each week, completing one of these routes daily. Each route has an estimated 3,400 stops, averaging to about 17,000 stops every week. With so much ground to cover, pick-up times can vary from week to week. For this reason, Public Works strongly urges residents to place their sanitation and yard debris out on the street curb the day before their scheduled pick-up to ensure that their residence does not get missed.
There are a few reasons as to why pick up times can vary from week to week such as the amount of debris or bulk items at each stop, employees out sick, equipment repairs, or weather delays. "One thing to keep in mind is that we can have equipment down or someone calls in sick and we have to make adjustments for that on our end so we could be by earlier or later than what you may be used to. It also depends on how much yard debris and large bulk items we have to collect at the stops before yours. Because this can vary from pick-up day to pick-up day there is no way to guarantee that we will be at your street at the same time every week," said Public Works Superintendent, Anthony Musgrove. When faced with one of these situations the Public Works Department will make the necessary adjustments as effectively as possible but it will inevitably interfere with pick-up times.
In order to avoid traffic on all major thoroughfares, Public Works begins sanitation pick-up at 5:30 a.m. and finishes around 2 p.m. each day. Chances are if you wait to place your receptacles out until the morning of, the sanitation division might have already gone by, resulting in your residence being missed or skipped. Musgrove encourages residents to have all sanitation and yard debris out by 12 p.m. the day before your scheduled pick-up to give yourself plenty of time to have it ready when the trucks come by.
Once the sanitation teams have gone through and finish a section, they clear it and move onto the next. However, if your household does get missed, residents can call the Public Works Department and a special team from one of the other divisions will be dispatched to that residence for pickup. The downside to this is that it is not efficient for the other divisions that are called out as they have to put their duties on hold to complete the route. If you do have to call to request a pick-up it is best that you do so earlier in the day. Any calls made after 3 p.m. are usually scheduled for pick-up the following morning, except for the calls placed after 3 p.m. on Friday, sanitation will then be picked up that following Monday morning. Ultimately the best way to avoid being missed is to have your bin and debris out at noon the day before. Musgrove ensures that if you follow these guidelines you are far less likely to be missed. "We don't have a set time that we will be by your house but if you put your trash out the day before we will certainly pick it up and it will not be left behind," said Anthony Musgrove.
For more information on the sanitation schedule please feel free to contact the Public Works Departments at (229) 259-3588.