Stormwater Tips
February 2022
Litter is defined as waste products that have not been discarded properly. Litter endangers our environment, our wildlife, and our economy. It pollutes our neighborhoods, decreases property values, and destroys our city's natural beauty.
Tips To Help Prevent Litter
- No littering! Take your food wrappings, drink containers, newspapers, and other potential litter home with you and dispose of it properly.
- Keep your yard clean and free of things that can blow into the street and become litter.
- Recycle! City residents can drop off recyclables at: 1) Five Points Shopping Center, 2) 1025 W Hill Ave. and/or 3) Corner lot of S. Lee St. and E. Savannah Ave.
- At home, make sure garbage and recycling bags are tied securely so that loose papers and other items can't fall out and become litter.
- When you visit a park, remember to take out what you bring in.
- Educate children about the importance of disposing of trash properly.
- Participate in community cleanup events.
When items like plastic bottles, styrofoam cups, and bags get into streams, they can harm wildlife and eventually end up in the ocean. This can contribute to a major pollution problem in our local rivers and streams. The ideal way to handle the problem of littering is to prevent it in the first place. Let's all take responsibility and try our best to properly dispose of waste!
March 2022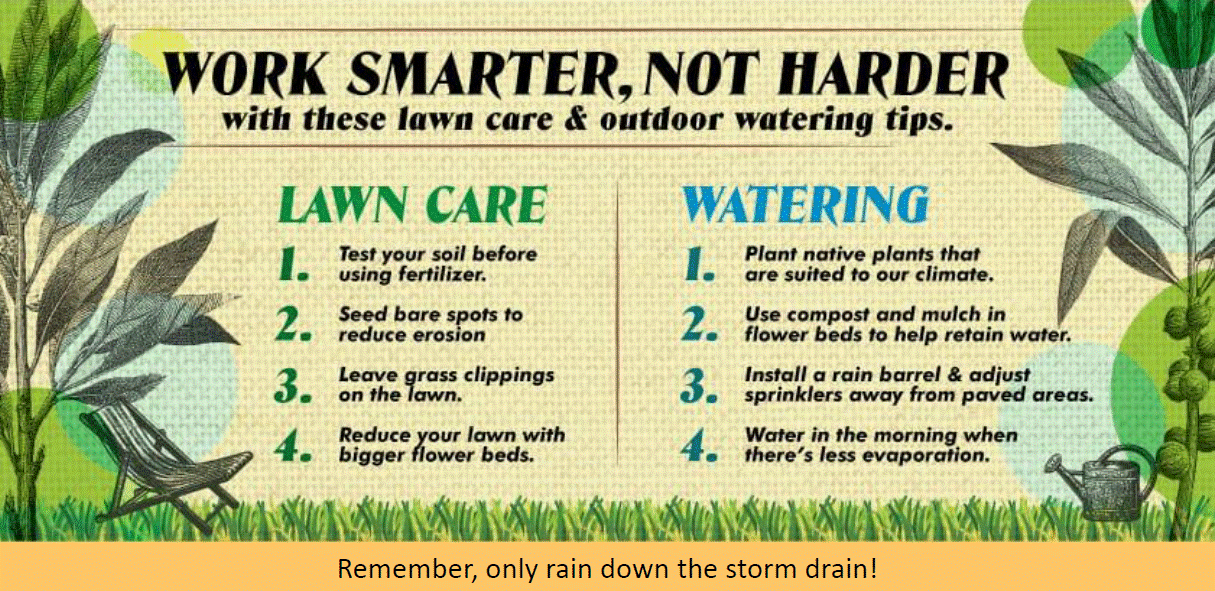 April 2022

June 2022
Hurricane season officially started on June 1st and will run through November 30th. Hurricane season can bring a host of dangerous weather including whipping winds, heavy downpours, power outages and flooding concerns. While water is a year – round focus for the City, homeowners can also prepare to protect their property from flooding. The time to prepare is now and to continue periodic maintenance to keep stormwater flowing properly into the stormwater system or a natural waterway.
To prepare for the season, homeowners can protect their property by:
Reporting clogged ditches and culverts to the Stormwater Division;
Secure outdoor items/furniture to prevent potential blockages;
Clear loose and clogged rain gutters and downspouts; and
Keeping debris out of nearby storm drains and ditches.
Below are a few links that will provide the most up to date information for our area during this year's season:
For more information, contact the Stormwater Division at (229) 259 – 3530.
August 2022
August is National Water Quality Month and an opportunity to take a look at how to manage stormwater on your property. During this time of year so many people are outside using our most valuable resource and it's important to remember how to keep our waterways clean. Creating a plan for responsible management of stormwater is one way to help protect water quality.
Follow these simple tips to prevent stormwater pollution:
Redirect downspouts;
Install a rain barrel;
Plant trees and/or native plants; and
Install a rain garden.
Remember, only rain goes down the storm drain! For more information, contact the Stormwater Division at (229) 259 – 3530.




October 2022
Nearly every community has a nearby waterway, whether a river, lake or creek. Unfortunately, these areas tend to be litter magnets. In fact, nearly 40% of US rivers have been declared too polluted for swimming, fishing or other recreational activities. Cleaning these waterways not only has environmental advantages but can improve community morale and beautification, while also inspiring other cleanup projects.
The City of Valdosta and Lowndes County is partnering to host this year's River Cleanup Event on Friday, October 28th from 10:00 am – 12:00 pm. Every year, we depend on volunteers like you to help clean our community from the impacts of plastic, tires and trash. If your department, division and/or team would like to be represented at this event, please contact Angela Bray at 229.259.3530 or email akbray@valdostacity.com.
What to bring:
Boots, waders and/or shoes & clothes that can get wet or dirty;
Refillable water bottle;
Emergency phone number; and
Bug spray, gloves, trash grabber, etc.
Remember, only rain goes down the storm drain!
November 2022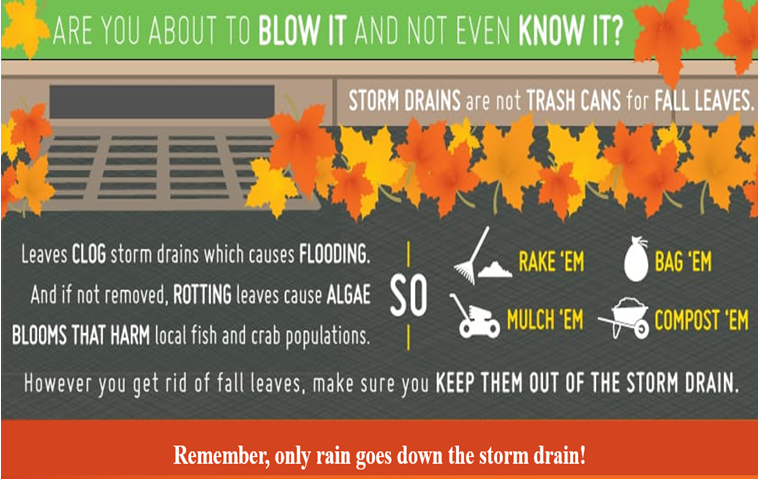 December 2022
Giving gifts that give back!
When searching for that perfect gift, consider gifts that are not only thoughtful, but help reduce the impacts of pollution on our waterways and environment.
Here are some helpful gift-giving ideas for friends, family and co-workers:
Dogs: Give the gift of a leash with a built-in bag dispenser. This will allow you to take your dog for a walk and make cleanup easy.
Gardner: Give the gift of a rain barrel. By diverting rooftop runoff to a rain barrel, this can reduce stormwater runoff and safe money on irrigation.
Outdoors / Nature: Give the gift of planting a tree. Trees are not just beautiful to our community, but also reduce the volume of stormwater by absorbing water into their leaves, bark and roots.
Vehicles: Give a gift certificate for an oil change or car wash. By encouraging proper maintenance of vehicles, this can help to keep pollutants such as oil and soapy water out of our local streams.
Electronics: Give the gift of recycling or donating. If you receive a new TV, phone, computer or other electronic device, but your old device still works, consider donating it to someone else. If the device does not work, dispose of it at an electronics recycling event instead of the landfill.
Remember, only rain goes down the storm drain!
Merry Christmas!
February 2023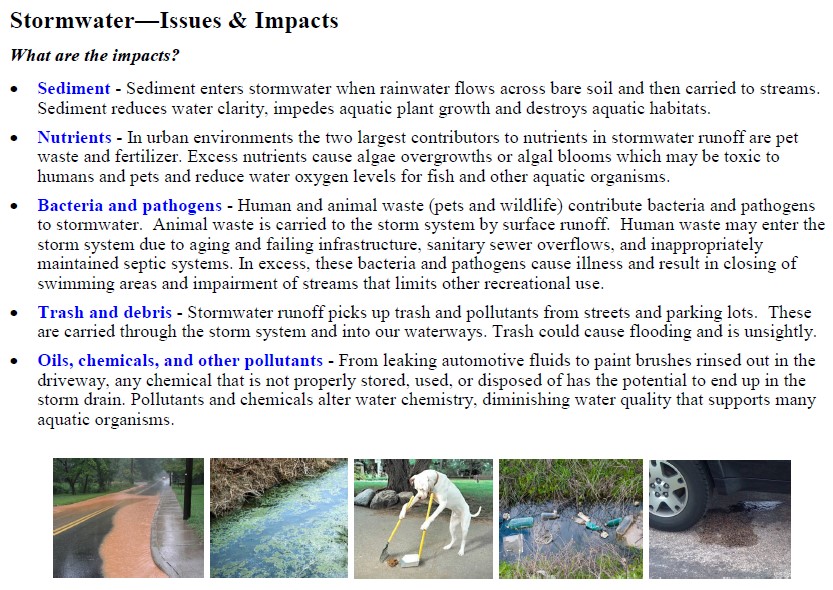 March 2023
Little Wings, Big Waves: How Bees Clean Our Waterways
In North America there are over 4,000 species of native bees. They are extremely important to humans and help plants reproduce through pollination. One of every three bites of food eaten worldwide depends on pollinators, especially bees, for a successful harvest.
Bees are critical to our entire ecosystem. Despite their importance in our everyday lives, pollinator populations continue to decline. Habitat loss and fragmentation caused by the expansion of "ecologically barren" grass lawns and fields, urban sprawl, excessive use of pesticides and invasive species create an uphill battle pollinators must fight to survive.
What can you do to help pollinators?
Provide habitat by planting native flowers that bloom during different seasons. In return, these plants support stormwater assets by acting as a physical filter and prevents erosion;
Offer pollinators a drink by placing a shallow dish of water on your deck or windowsill;
Leave the leaves to provide food and shelter in the winter; and
Limit the use of pesticides.
Next time you see a pollinator – friend buzzing around, take a second to appreciate the hard work they are doing to support plants, animals and even our waterways. Their little wings make a big impact!