Mayor's Youth Art Contest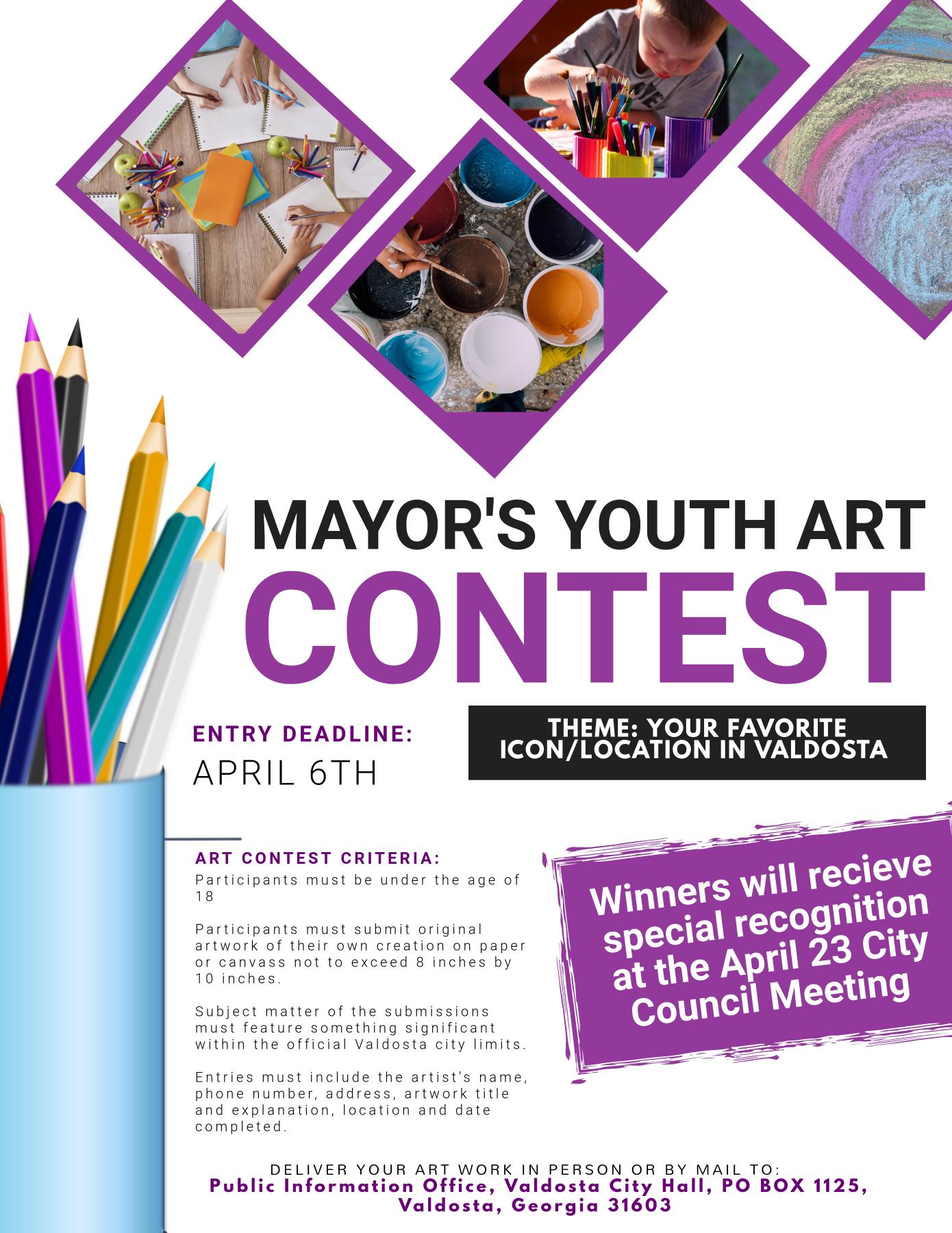 The Valdosta Youth Council has announced its first annual Mayor's Youth Art Contest aimed at highlighting students favorite spots within the city.
The 2020 Art Contest will showcase local youth artists who put their skills to paper and canvas depicting a favorite icon found within the City of Valdosta. The work of three finalists will be named the first-, second-, and third-place winners.
Mayor Matheson will recognize the winners April 23, City Council Meeting. The deadline to submit an entry is Monday, April 6, 2020 by 5 p.m.
2020 YOUTH ART CONTEST OFFICIAL RULES
Participants must be under the age of 18. Participants must submit original artwork of their own creation on paper or canvass not to exceed 8 inches by 10 inches. Subject matter of the submissions must feature something significant within the official Valdosta city limits. Submissions must be delivered in person or by mail to Public Information Office, Valdosta City Hall, PO BOX 1125, Valdosta, Georgia 31603 no later than 5 p.m. on Monday, April 6, 2020. Entries must include the artist's name, phone number, address, artwork title and explanation, location and date completed. Winners will be announced on Thursday, April 23, 2020. Three entries will be chosen a first-, second-, and third-place winner. Finalists' original submissions will be kept by the City for one year for display in City Hall. Other submissions will be kept by the City until, Monday, April 27, 2020 when they may be picked up from City Hall. Digital images of all entries will be kept by the City of Valdosta to be used for promotional purposes, and the City will have non-exclusive copyrights to the images.