Applications Available for 2023 Christmas Parade
The Greater Valdosta Community Christmas Parade is back, and this year promises to be more enchanting than ever as we celebrate the season's magic with our captivating "Snow Globe" theme. The parade is set to spread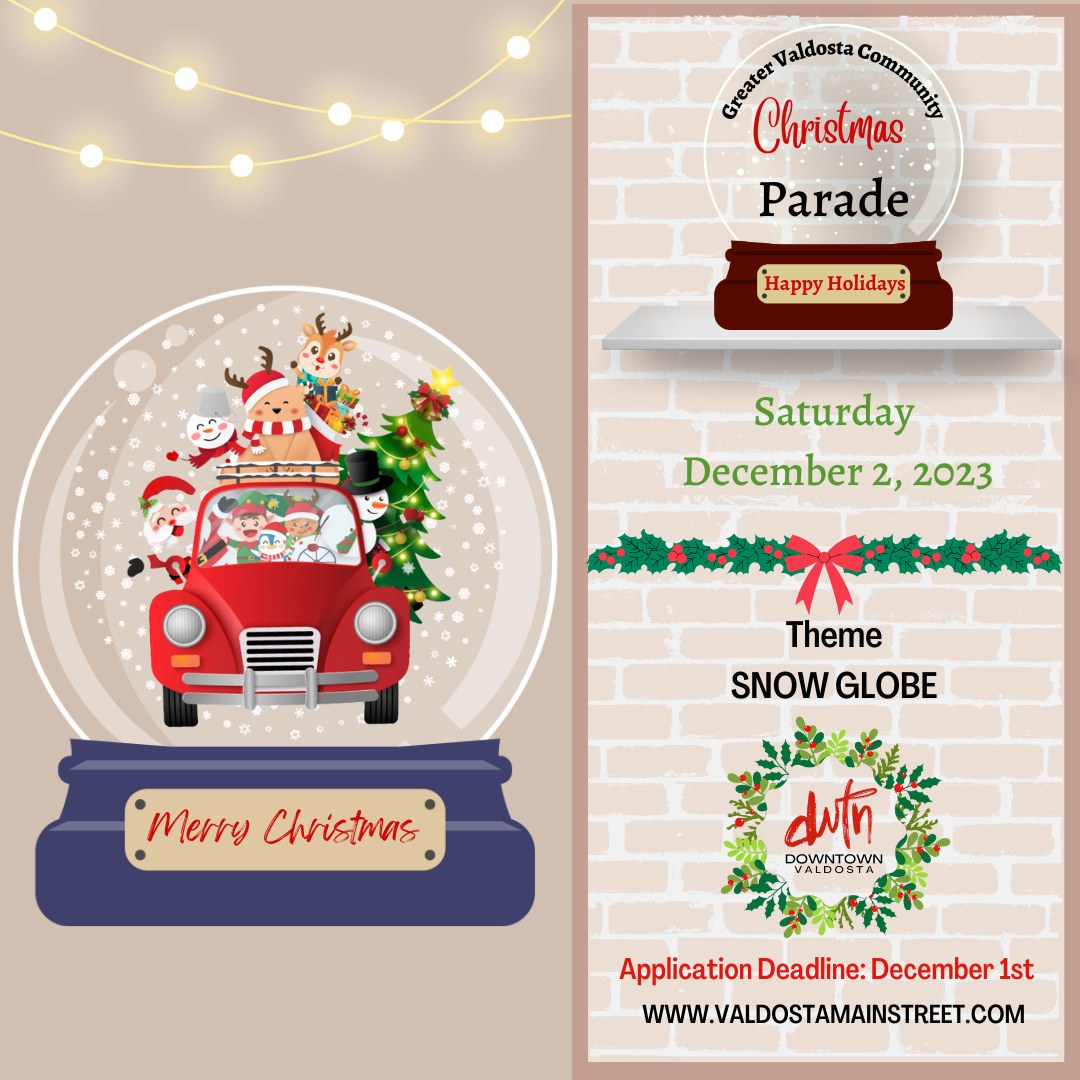 holiday cheer, transforming the streets from Woodrow Wilson to Downtown Valdosta into a winter wonderland on December 2, 2023, starting at 6 PM.
"I am thrilled to announce the upcoming Christmas Parade, a festive extravaganza that will bring our community together in a joyous celebration. This event will showcase the spirit of the season and highlight the unity and warmth that defines our wonderful community," said Main Street Coordinator Ally Sealy.
Sealy adds that the parade will line the streets with laughter, music, and the magic of Christmas, creating memories that will last a lifetime.
Join us for a night filled with joy, music, and the spirit of Christmas. The "Snow Globe" theme will bring to life the enchanting beauty of a winter landscape, creating a magical atmosphere for participants and spectators alike. Get ready for a festive procession featuring beautifully decorated floats, lively music, and the jolly presence of Santa Claus.
Event Details:
Date: December 2, 2023
Time: Starting at 6 PM
Location: Woodrow Wilson to Downtown Valdosta
Take advantage of this opportunity to be part of a cherished community tradition that brings families, friends, and neighbors together in the spirit of the season.
How to Participate:
If you want to participate in the festivities, we invite you to apply to be in the parade. Whether you have a festively decorated float, a marching band, or a group of spirited performers, we welcome your participation.
Apply to be in the parade by visiting https://tinyurl.com/2023ValParade.
For more information, contact the Main Street office at 229-259-3577.