Captain Tomas Chavarria Graduates from the FBI National Academy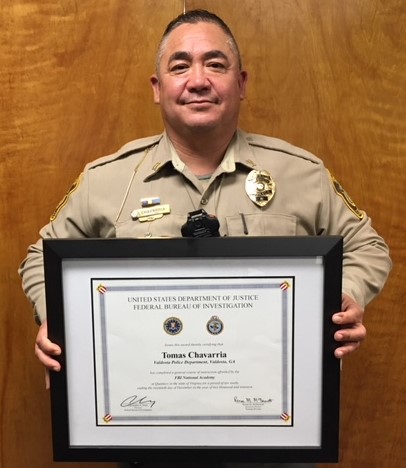 At a ceremony held on December 20, 2019, at the Federal Bureau of Investigation Academy in Quantico, Virginia, Captain Tomas Chavarria, a 28 year veteran with the Valdosta Police Department, graduated from the 278th Session of the FBI National Academy. FBI Director Christopher Wray delivered remarks at the ceremony, then presented each graduate with their certificate. By participating in this 11-week training program, Captain Chavarria joins the ranks of the only one percent of law enforcement who are accepted to this elite executive training program, both in the United States and Internationally. Captain Chavarria's class of 258 law enforcement personnel included representatives from all over the United States, 37 separate countries, four military organizations, and six federal civilian organizations.
Captain Chavarria completed advanced training in drug enforcement strategies, contemporary issues in law enforcement, media relations, law enforcement essentials, leading at-risk employees, and fitness training. This training, which also gave him post-secondary educational credits through the University of Virginia, was conducted by FBI Academy instructors, special agents, and other staff. Captain Chavarria earned the coveted "Yellow Brick" for completing the 6.2-mile run and obstacle course, known as the "Yellow Brick Road".
"The training was long and at some times a little tough, but for me, failure is not an option. My family was my motivation to reach a successful ending. It was great to great to network with officers from around the world, and see that no matter where the agency is, or how large or small they are, law enforcement agencies all have the same issues. During this time I met a lot of very brilliant leaders from around the world. I am grateful to our City Manager Mark Barber and other city leaders, for allowing me the opportunity to attend this training." Captain Chavarria.
"I am so proud of the determination and dedication showed by Captain Chavarria, to be accepted and complete this rigorous program. He is a great leader amongst his peers and is a great representative of the Valdosta Police Department." Chief Leslie Manahan.
The last time anyone from the Valdosta Police Department graduated from this program was in 2011.