Cinema for a Cause Charity Event to Benefit Valdosta Police Department 'Shop with a Cop' Program
The Georgia Theatre Company has once again chosen to graciously support the Valdosta Police Department Shop with a Cop Program during the 16th Annual Cinema for a Cause event. VPD's Shop with a Cop Program helps provide toys for Christmas to families in the community.
The Cinema for a Cause event will be held on Sunday, September 29, 2019, at GTC's twenty-five locations throughout Georgia, Florida, South Carolina and Virginia. Customers are encouraged to come to the movies that day when 100% of all admission tickets and concession purchases will be donated to local charity groups.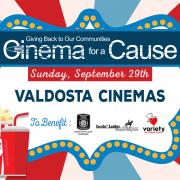 "The theatre is a place where communities come together to share a common experience," said Bo Chambliss, President of Georgia Theatre Company. "We appreciate all that our employees do to make the movie-going experience as enjoyable as possible. We are grateful to allow the managers and their staff select charities to support in the local community. It is a great way for us and them to give back."
Last year's event raised $174,285 to benefit 35 local charities and to date, this unique event has allowed Georgia Theatre Company to donate $1.67 million to local charity groups over the past 15 years. "We take pride in being a part of every community where we have a theatre," said Bill Stembler, Chairman of Georgia Theatre Company. "Giving all of our proceeds for one day is a small way for us to show appreciation for the communities that support us all of the time. Enjoy the movies!"
The participating theatre in the Valdosta area is Valdosta Cinemas. Recipient charity groups for this market this year are Jacob's Ladder Therapeutic Riding Center, Shop with a Cop (Valdosta Police), and Variety of Georgia.
"Please come watch a movie on September 29th and help us make this holiday season a little brighter for even more kids than last year," said Community Policing Officer Randall Hancock. "The Shop with a Cop program helps us build community relations. It helps get children in our community to start trusting the police officers. What could make a child more in tune with a police officer than to see an officer come up and hand you a toy? We're just trying to build bridges and let these children know we're on your side and we're out there to protect you."
If you have any questions, please contact, Randall Hancock, VPD's Community Policing Officer at (229) 242-2606.