City Employees Celebrated During National Public Works Week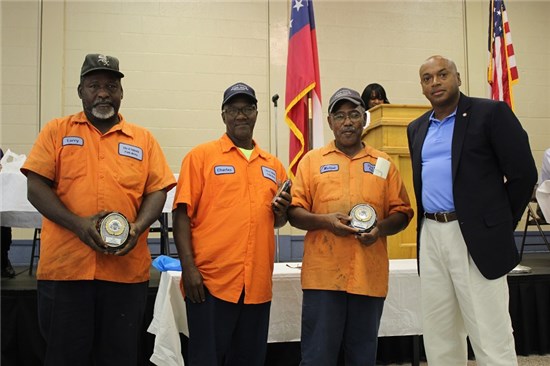 The City of Valdosta recognized the men and women behind the scenes of some of the most important city services at the 1st annual Valdosta Public Works Week Banquet, held on May 18 in observance of National Public Works Week. The 104 members of the Valdosta Public Works Department gathered at Mathis Auditorium to be celebrated by their leaders and peers.
This year's theme is "Public Works Always There," which showcases how communities depend on the extensiveness of Public Works services and the men and women of the profession who are always there and always ready.
"I am proud of the hardworking men and women in our Public Works Department and thankful to you for choosing this as a valued profession," said Public Works Director Richard Hardy to his staff at the event. "Your hard work and dedication is not only noticed, but very valued by your peers, your city leaders and by the citizens of this fine city who depend on you daily. Thank you for what you do and for the quality in how you do it each day."
The following individuals were nominated by their supervisors in the areas of their assigned divisions for superior job performance, attendance, attitude, and work ethic and recognized at the May 18 event:
Yeusheca Lissimore, Customer Service Division
Joseph Wheeler, Yard Trash Division
Michael Lamb, Residential Garbage Division
Clarence Walker, Commercial Collections Division
Zachary Davis, Recycling Collections Division
Thomas Dammond, Maintenance Center
Mercedes Cason, Mathis Auditorium
James Harrell, Sunset Hill Cemetery
Henry Maxwell, Right-of-Way
Public Works employees with over 30 years of service and dedication to the City of Valdosta were also recognized:
Larry Brown – 30 years
Charles Brantley – 31 years
Michael Lamb – 30 years
The Valdosta Public Works Department is responsible for the daily operation of residential and commercial sanitation services, right-of-way street maintenance, facilities maintenance, city vehicle and equipment repair, and street sweeping in residential areas as well as designated state routes. Department staff also collects and properly disposes of recycling, bulk items and yard trash for city customers. For the protection of citizens, the Public Works Department also provides a mosquito spraying and larvacide program. In addition, the Mathis Auditorium and Sunset Hill Cemetery are owned and managed by the Public Works Department.
Public Works Week runs through May 20. View addition photos of the event at http://www.valdostacity.com/photo-gallery. For more information, contact the Public Works Department at 229-259-3597 or visit www.valdostacity.com/public-works.