City of Valdosta hosts Drive-Thru 'Back to School Bash' on Aug 1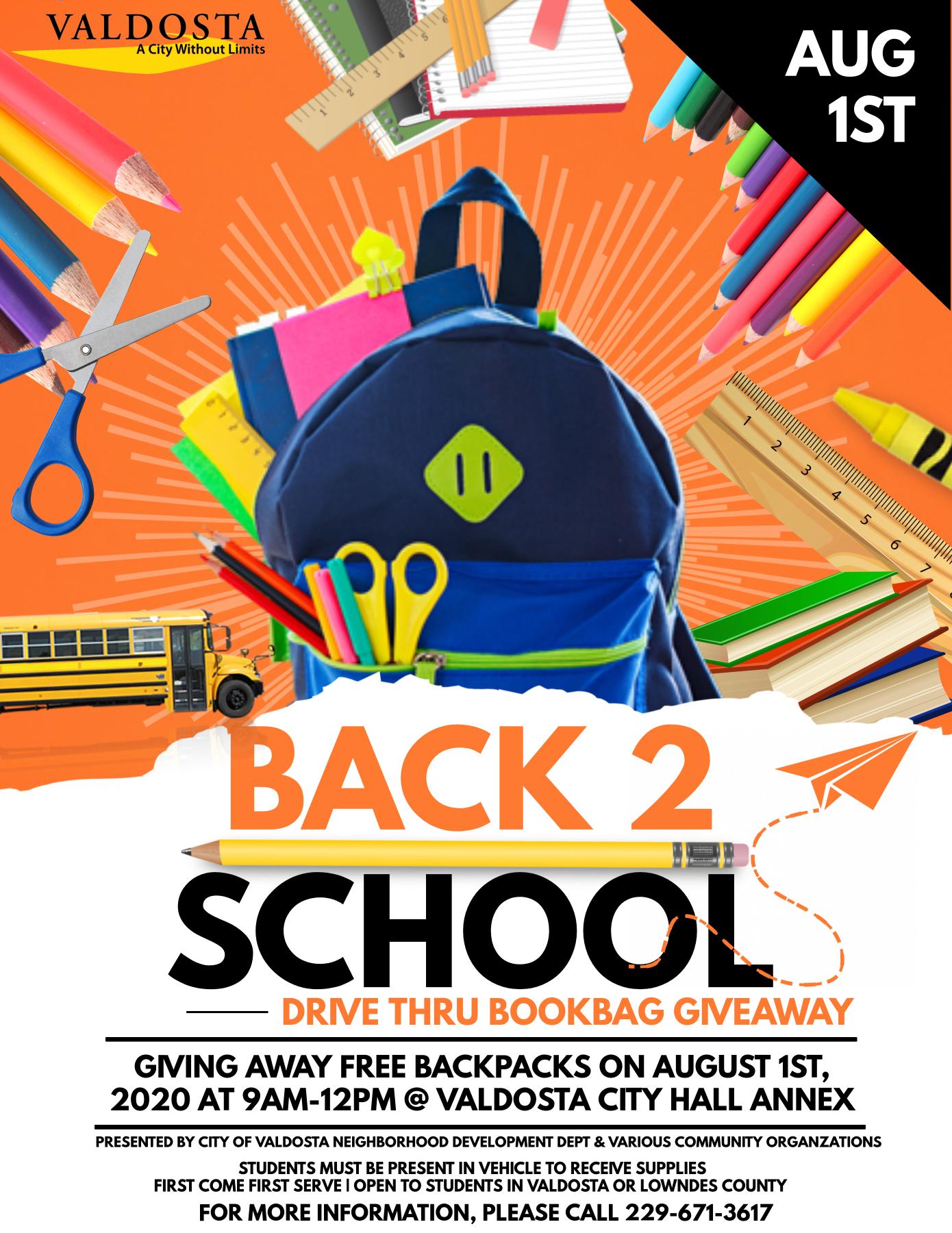 On Saturday, August 1, The City of Valdosta will host its Annual Back to School Community Event. Due to the COVID-19 Pandemic, this event will be held drive through style. The event is organized by the City's Neighborhood Development Office as well as many other local organizations that sponsor the event.
The Back to School Community Event will be held from 9 a.m. to 12 p.m. at the City Hall Annex (300 N Lee Street). It is a community wide event therefore students from Valdosta City Schools, Lowndes County Schools and local private schools are invited to attend. Signage will be placed outside the Annex building and around downtown to direct cars through the event.
"This year, due to the pandemic we are unable to host the event in Drexel Park. Instead, we will host it as a drive thru event. We want people to come, stay in their vehicles and we will bring the backpacks out to them," said Vanassa Flucas, Neighborhood Development Director. "This year will also be different because normally we make backpacks specific for each child when they register. We aren't able to do that for this year's event, instead we will have pre-stuffed bags with standard supplies for all students."
The Back to School event was started in 2017 as a way to provide students with the school supplies they need before the start of the school year. School supplies can cost on average $50.00 to $75.00 just for one student each school year from grades K through 12. And by mid-school year, an additional $35.00 is needed to supply that same student through the remainder of the school year. "We know the struggles many of our fellow citizens face each year when it is time to send our students back to class. This is a huge undertaking, but we feel more students will be assisted by coming together to coordinate one community event," said Flucas.
Supplies are on a first come first serve basis and students must be present in the car during pick-up. There is no pre-registration required. The Neighborhood Development Division has more than 1,200 backpacks ready to go for the event.
"It's important now more than ever that we start preparing students to be successful in their future. The city is always looking for new ways to support and be involved in the enrichment and education of our students in Valdosta," said Flucas. "This is just one of the many ways we are being proactive and meeting the needs of our community. The youth are the future of this city and we want them to have all the tools they need to be successful in the classroom."
For more information or questions about the Back to School Community Event, please contact the Neighborhood Development Department at 229-671-3617.