City of Valdosta hosts Drive-Thru 'Back to School Bash' on Aug 7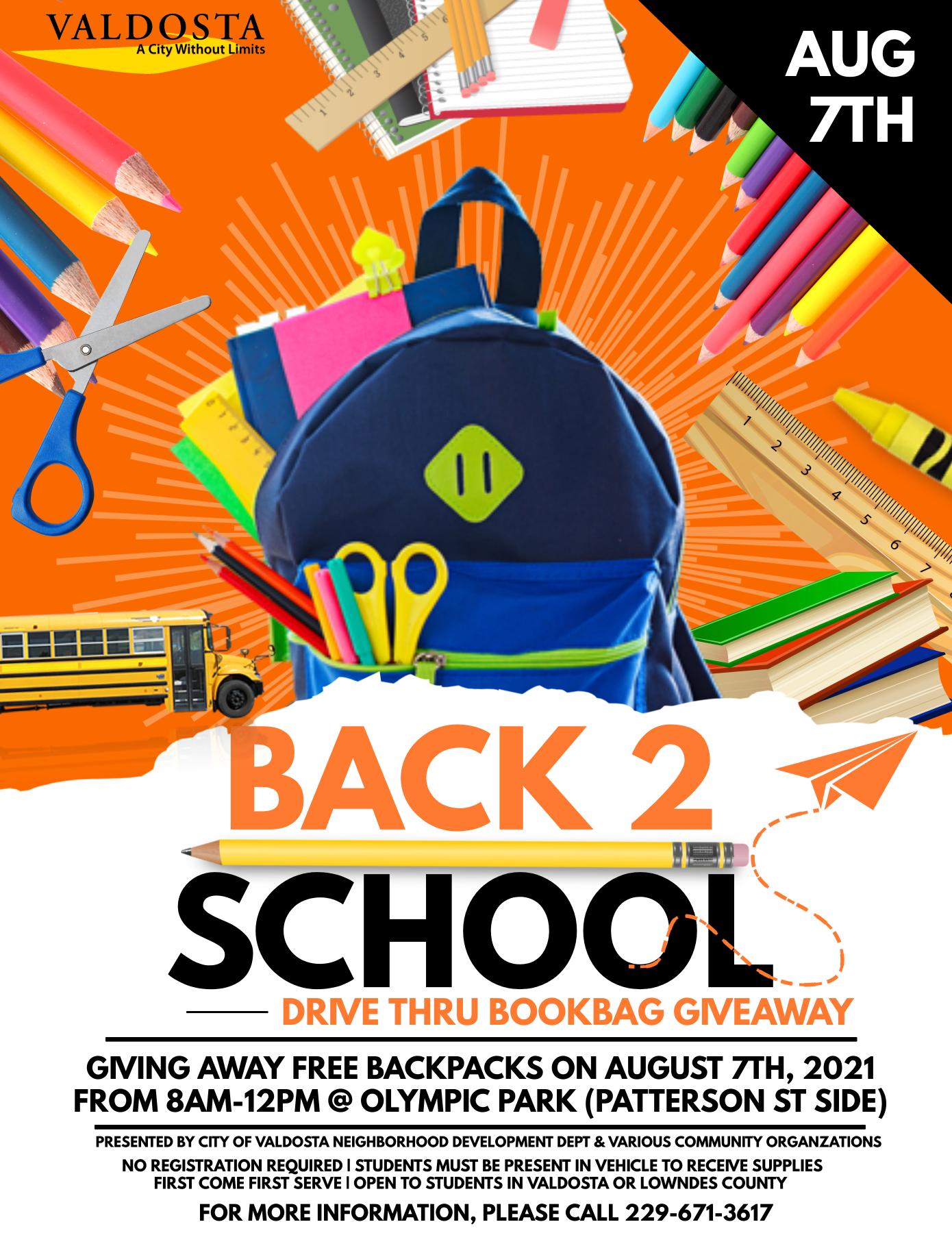 The City of Valdosta will host its Annual Back to School Bash on Saturday, August 7. The event will once again be run in a drive-thru format to account for ongoing COVID-19 Precautions. Five hundred pre-stuffed bags will be distributed to students on a first-come, first-serve basis thanks to various community sponsors and the City's Neighborhood Development Department.
The Back to School event started in 2017 to provide students with the school supplies they need before the start of the school year. School supplies can cost on average $50.00 to $75.00 just for one student each school year from grades K through 12. And by mid-school year, an additional $35.00 is needed to supply that same student through the remainder of the school year. This year provides additional challenges for many students and families as it will mark the return to a formalized classroom setting.
"We are just happy to assist in this transition back to school. We still have families county-wide who are trying to recover from the COVID pandemic, and this event will help in some small way," said Vanassa Ross, Neighborhood Development Manager.
We thank all of our donors for all they have contributed to this event over the years, and we look forward to returning to our back to school park celebration next year," said Neighborhood Development and Community Protections Manager Vanassa Ross.
This year's Back to School Bash will be held from 8 am to 12 pm at Olympic Park (Patterson Street Side). No pre-registration will be needed. However, students must be a resident of Lowndes County to participate. We ask that participants start to line up for the bags no earlier than 7:45 am to allow for proper set-up from the volunteers.
Supplies are first-come, first-serve, and students must be present in the car during pick-up.
"It's important now more than ever that we start preparing students to be successful in their future. The city is always looking for new ways to support and be involved in the enrichment and education of our students in Valdosta," said Ross.
For more information or questions about the Back to School Community Event, please contact the Neighborhood Development Department at 229-671-3617.