City of Valdosta March 26 Services Updates Related to COVID-19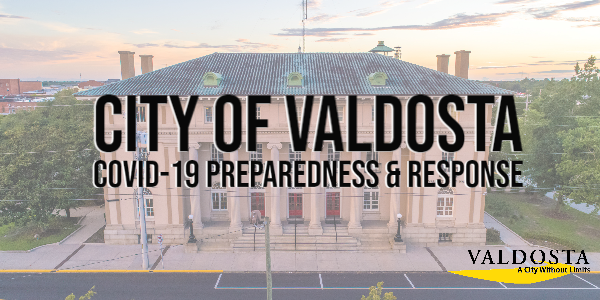 The health and safety of our community is always a top priority for the City of Valdosta, especially in unprecedented times like these.
City leadership and staff are working diligently every day to make sure that we are doing all we can to keep you – our Valdosta residents and businesses – safe, healthy, and informed as we try to minimize the impact of COVID-19 (Coronavirus) in our community.
City's Role
As a City, it is our responsibility to maintain essential services and support our public health and public safety partners.
We have emergency management and operations plans for situations like this, they are in place and working to maintain those critical services, identify community needs, and mobilize coordinated responses.
The City is taking action to slow the spread and flatten the curve of COVID-19 and amplify the messages, recommendations, and preventative measures of the lead agencies.
What We Are Doing
We are collaborating and coordinating with our partners in Lowndes County and Emergency Management to identify community needs and address them as quickly as possible.
We are making sure our first responders and personnel stay healthy and have the necessary personal protective equipment (PPE) that they need to continue serving the community.
We are suspending meetings, temporarily closing facilities, and modifying some face-to-face services to help reduce the spread of COVID-19 in Valdosta and Lowndes County.
We have reduced staffing across all city departments in order to allow employees to adhere to the voluntary stay safe at home policy issued on Tuesday, March 24. All of our services continue to operate, some virtually, some limited staff in office. Our public safety workers in Fire and Police continue their normal hours and shifts. Trash collection is running on schedule. Utility services will continue as normal.
Why We Are Doing It
All of these efforts help slow the spread of COVID-19.
By slowing the spread, it is the goal to preserve our health care capacity which will be critical in the coming weeks.
These actions also help protect people who may be at higher risk - people over 60 and those with pre-existing respiratory, cardiac conditions, or who are immunocompromised.
We can all help reduce the impact of COVID-19 in our community.
What Can You Do
Follow the guidance from the Centers for Disease Control, the Georgia Department of Public Health, and South Health District regarding healthy behaviors and social distancing.
Help each other through checking on your neighbors, reducing stigma, supporting local organization and businesses.
Educate yourself through trusted and official resources to reduce the spread of misinformation.
Accessing City Services
The City of Valdosta is working to ensure the safety, security, and health of the public and our staff while continuing to offer you the customer service you expect from us
Consistent with guidance on limiting the spread of COVID-19 through social distancing, we ask you to please communicate with our staff over the telephone and internet. Visit the City's website at valdostacity.com for information on services, forms, or other items you need
Staff email addresses are also available online to conduct business via email.
We recognize the economic hardship that may impact our community during the current public health emergency due to the COVID-19 virus. Until further notice, the City is suspending water disconnections. Customers who are impacted by the suspension of service shutoffs during this grace period will still owe the City for past due balances and fees related to services provided, and are encouraged to contact us to make payment arrangements.
We encourage the public to use the Customer Service drive thru, drop box, or make their payments online at https://www.valdostacity.com/pay. If you must speak with staff, please call 229-259-3510.
Continue to follow the City of Valdosta on Facebook, Twitter, Instagram, and Youtube.