Civic Program Provides the 101 on Local Government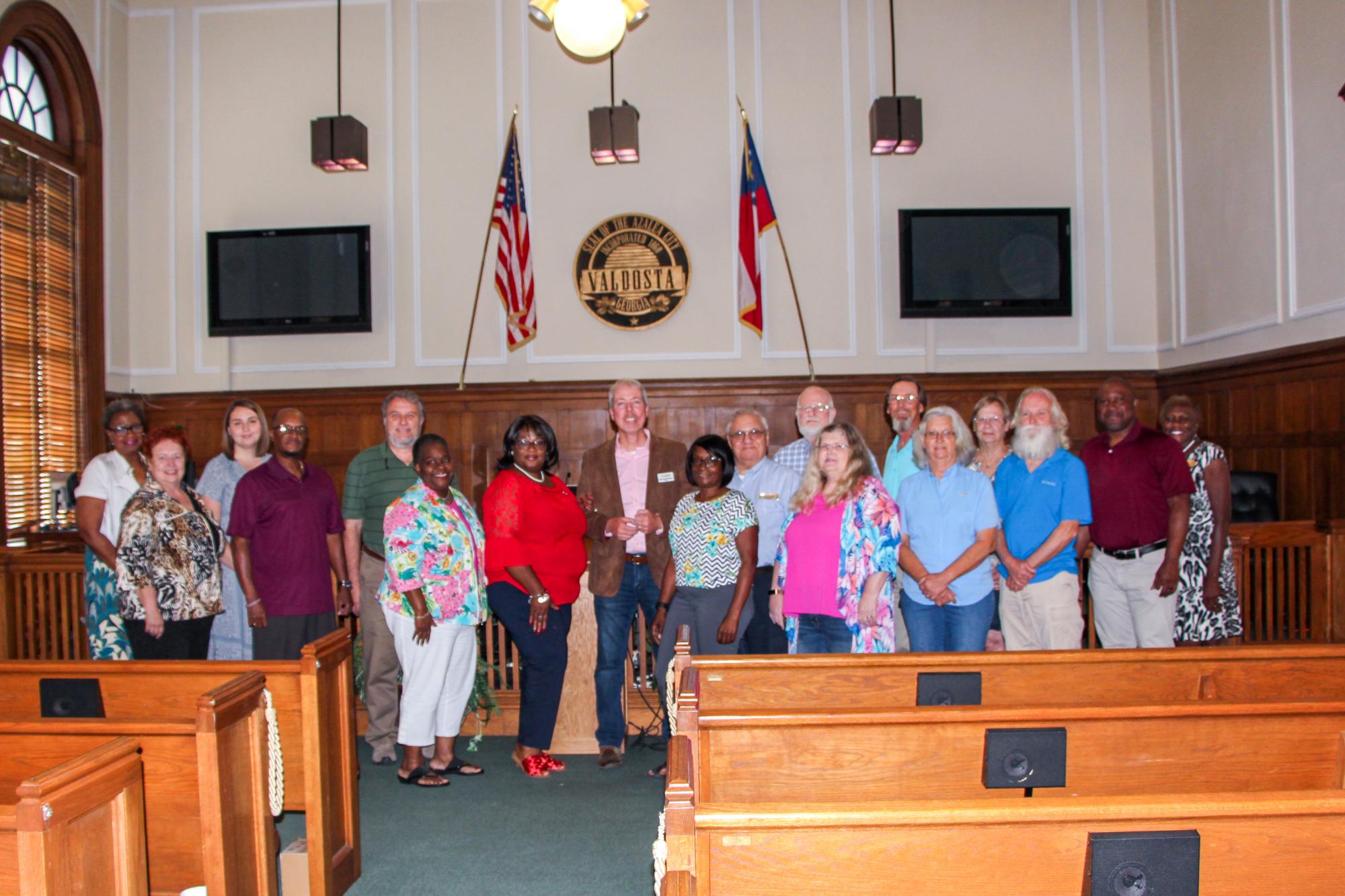 Fifteen local citizens graduated from the 12th annual Valdosta Government 101 Citizens Orientation at a ceremony on May 24, joining more than 250 graduates from the program to date.
The six-week program, an initiative of the Valdosta Mayor and City Council, attracted citizens from all walks of life—from student to educator, professional to retired, and everything in between—with the common goal of learning about the programs and services of their city government. The class of 2021 includes Barbara and James Lusk, Beverley Richardson-Blake, Carol Machovec, Carrie Almeida, Constalina James, Gail Green, Jim Halter, Kerry Watts, Robert Gallagher, Ron Bythwood (Sr), Tangela Curry, Tony Christopher, Tony LaMarca, and Valerie Buckner.
Participants of the program met on six consecutive Monday evenings, from 5:30-8:30 p.m., to learn about the overall city government structure, public safety, municipal court, engineering, public works, utilities, financial administration, industrial and economic development, recreation, inspections, neighborhood and community development, parks and recreation, Main Street, and planning and zoning. The group toured several government facilities.
"My biggest piece of advice is for everyone to take the class, every week is worth it. There is a lot of information that citizens don't know that is so beneficial," said Tangela Curry.
The Valdosta Government 101 Citizens Orientation is one of three volunteer programs in the City of Valdosta available to citizens—the other two are the Citizens Police Academy and Citizens Fire Academy—designed to give locals valuable knowledge of resources through a behind-the-scenes view inside their local government. A number of graduates from these programs have utilized their gained experience and knowledge to pursue public service opportunities, such as serving on local boards and commissions and other public offices.
"The City of Valdosta is the only local government in our area that has this type of citizens program," said Mayor Scott James Matheson. "We are proud to have Valdosta Government 101 participants from throughout Lowndes County, as well as from the adjacent counties, who are truly interested in learning about our city government and community. As a result, this program is producing more informed community members who want to play a greater role in civic life."
The Valdosta Government 101 Citizens Orientation is held each year during the months of April and May. For information about the 2022 class, contact Public Information Officer Ashlyn Johnson at 229-259-3548.