Dontrae Childs Honored as October Employee of the Month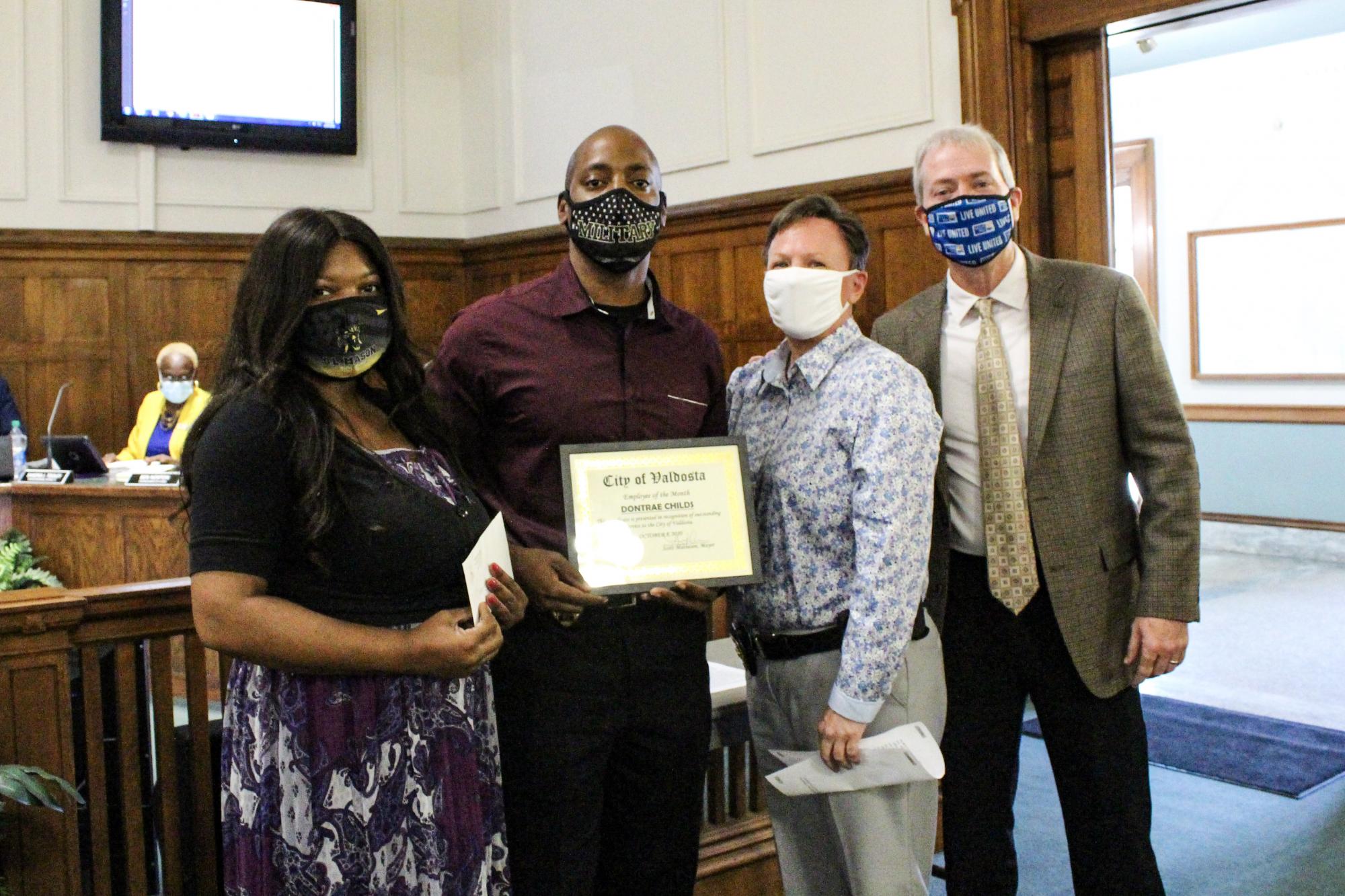 Valdosta Mayor, Scott James Matheson honored Valdosta Police Department Detective, Dontrae Childs, as the October 2020 Employee of the Month at the October 8, City Council meeting. Childs received a framed certificate, a check for $200, and his name appears on a plaque in City Hall.
Dontrae Childs began his employment with the City of Valdosta in September of 2011. Detective Childs started his career as a Patrol Officer, then transferred to the Bureau of Investigations where he has been a Detective in the Burglary Unit. The Burglary Unit is responsible for investigating burglaries and motor vehicle thefts. Because of his outstanding investigative skills, Detective Childs has recently been transferred to the Person's Crime Unit, where he will now be investigating homicides, robberies, rapes, and aggravated assaults. Not only does Detective Childs serve his community as a Law Enforcement Officer, but he also serves his country as a member of the United States Army Reserves.
Detective Childs was nominated by his Supervisor for going above and beyond to help a young family, who fell victim to a crime. On July 28, 2020, Detective Childs was conducting a burglary investigation, in which a mother and her five minor children were victims of a burglary. Through his investigation, he found out that this family had been homeless and had just moved into a home with Habitat for Humanity. The family did not have many belongings, but one of the items that were taken in the burglary was a television. This really hit Detective Childs hard and because of this, he took it upon himself to go to Target, where he purchased the family a television out of his own personal funds. His actions, not only on this occasion but all the time, exemplify what public service is about.
The City of Valdosta applauds Detective Childs for his dedication, exemplary work ethic, and for being named the October 2020 Employee of the Month.