Dujunnea Bland honored as September 2021 Employee of the Month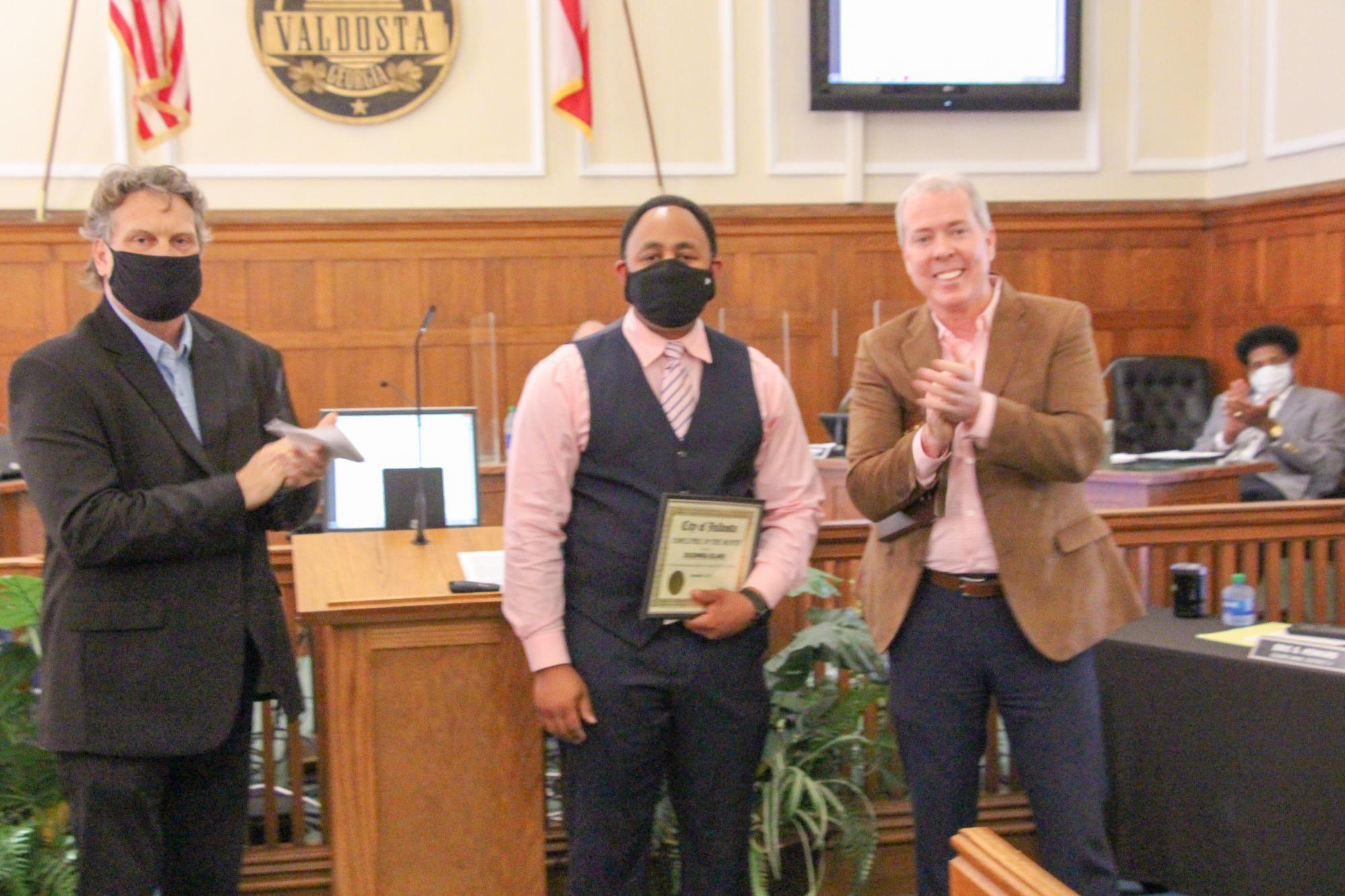 Valdosta Mayor Scott James Matheson and Utilities Director David Frost honored Dujunnea Bland as the September 2021 Employee of the Month at the September 9 City Council meeting. Bland received a framed certificate, a check for $200, and his name appears on a plaque in City Hall.
Dujunnea Bland began his employment with the City of Valdosta in January of 2021 and is currently a Central Maintenance Technician in the Utilities Department.
The nomination for DJ Bland was submitted by his Supervisor, Tanner Smith. Bland stepped up as Acting Maintenance Supervisor at the Water Treatment Plant during his Supervisor's medical leave of absence after only being in this Department for two months. His ability to learn and execute required tasks to keep our citizens and communities drinking water flowing is beyond phenomenal! His continuous positive attitude has a very positive effect on the morale of co-workers. During his time as Acting Supervisor, he continued to prove his ability to take on new jobs, which would be difficult for most others who have only been in this Department for a couple of months. His mechanical skills abled him to keep the Water Treatment Plant operating at full force. The Water Treatment Plant consists of hazardous chemicals and hazards. DJ successfully worked with these hazards with no safety issues again with minimal experience at the Plant. He was also in charge of one other co-worker during his acting supervisor, which allowed him to show his leadership skills that are very easy to recognize.
"Bland is always bringing up new and beneficial ideas to help make our work as efficient as possible. The City of Valdosta benefits highly from having DJ on our team. His exceptional overall performance was quickly noticed by myself, as well as other Superintendents and co-workers. At the rate he is learning, he will be moving up quickly in this line of work. Based on his short time as Acting Supervisor, I know he will continue to learn and thrive in this organization and industry. Without DJ's hard work and contributions to the Water Treatment Plant and the City as a whole, our citizens would not have received adequate drinking water during this time. Providing our community and citizens with fresh, uncontaminated drinking water is of utmost importance to our community's health and well-being," said Smith.
The City of Valdosta applauds Dujunnea Bland for his dedication, exemplary work on and off duty, and being named the September 2021 Employee of the Month.
For more information, please contact the Public Information Office at info@valdostacity.com or 229-259-3548.