Firefighter Jarvese Gilliard honored as July 2021 Employee of the Month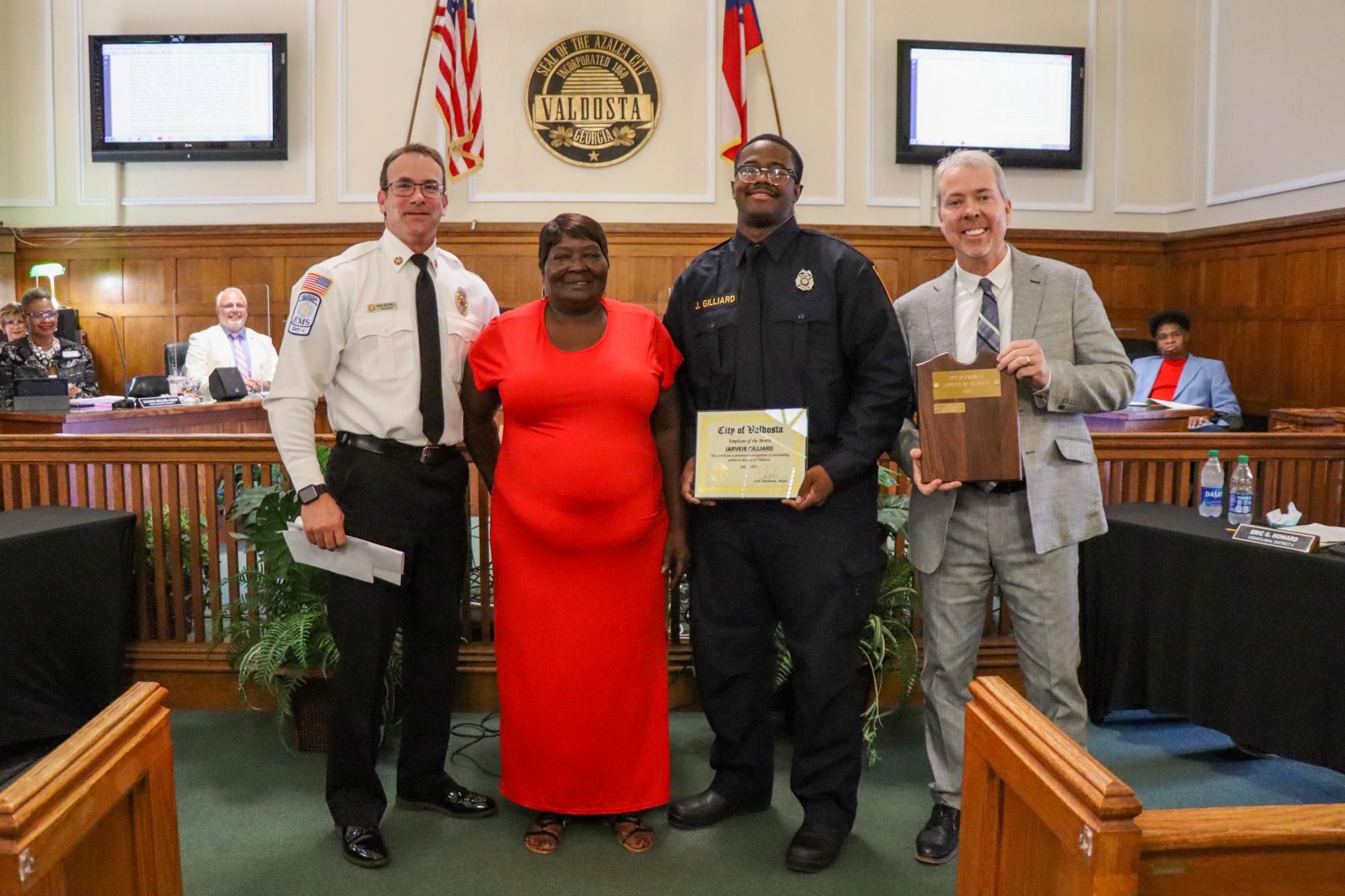 Valdosta Mayor Scott James Matheson and Fire Chief Brian Boutwell honored Firefighter Jarvese Gilliard as the July 2021 Employee of the Month at the July 8 City Council meeting. Gilliard received a framed certificate, a check for $200, and his name appears on a plaque in City Hall.
Gilliard began his employment with the City of Valdosta in June of 2018 and is currently a Firefighter with the Valdosta Fire Department. The nomination for Firefighter Gilliard was submitted by Captain Robert Mercer regarding Firefighter Gilliard's heroic effort while off duty.
Gilliard was nominated for Employee of the Month due to actions taken while off duty on May 2, 2021, when he witnessed a shooting take place at the intersection of Williams Street and East Alden Avenue. Gilliard called 911 to report the shooting then went to begin a patient assessment on the victim. He remained with the victim until Valdosta Police Department arrived on the scene and established control. Although he had no duty to act, Gilliard entered an unsecured scene with the offender's whereabouts unknown and did what he could to ensure the victim was cared for until additional help arrived. His actions reflect the care and dedication to members of our community that every City employee should strive to display. With his prompt action, the offender was apprehended nearby, and the victim received emergency medical care quickly.
The City of Valdosta applauds Firefighter Gilliard for his dedication, exemplary work on and off duty, and for being named the July 2021 Employee of the Month.
For more information, please contact the Public Information Office at info@valdostacity.com or 229-259-3548.