Franklin Kier honored as Georgia APWA Public Works Employee of the Year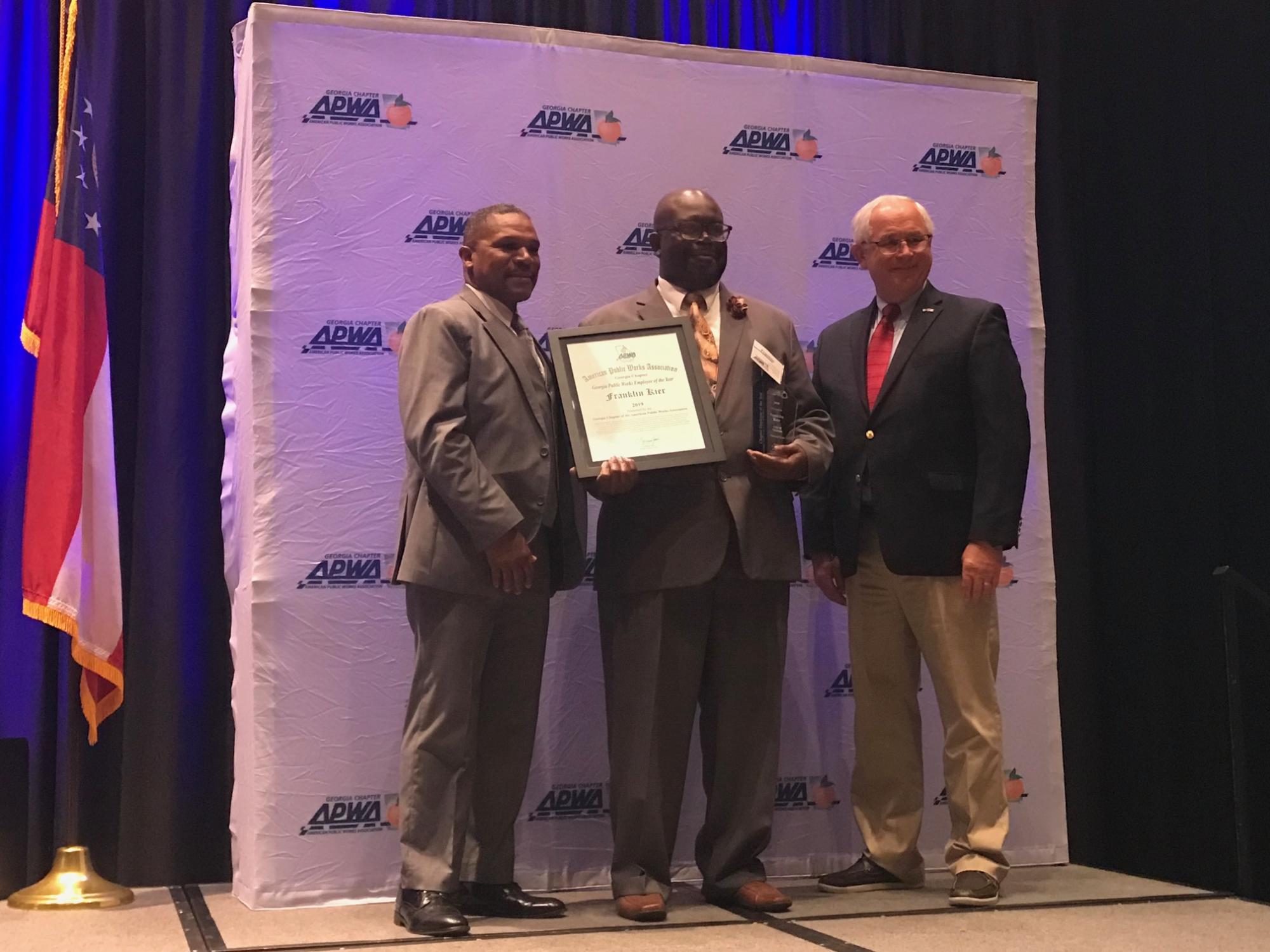 On Thursday, July 11, City of Valdosta Public Works Employee Franklin Kier was honored at the APWA Georgia Chapter Annual Meeting in Jeykll Island as the Georgia American Public Works Association "Public Works Employee of the Year".
According to the Georgia APWA, This award is presented to line employees (non-supervisory) with exemplary work record, longevity, and volunteerism in the field of public works.
Franklin Kier is from Valdosta and graduated from Valdosta High School. Franklin began his employment with the City of Valdosta Public Works Department in April 2016 as a Maintenance Worker I assigned to the Yard Trash Division. After successfully meeting all requirements of being in the position as a Maintenance Worker I for a minimum of two years and rated satisfactory or above in all areas on each of his annual performance evaluations he was promoted to the next level as a Maintenance Worker II the position he currently holds.
The position he occupies is responsible for the collection of refuse, recyclables, yard waste and other materials along a predetermined route. Through this position, his division provides exemplary customer service to over 4,500 city residents daily.
When he's not working, Mr. Kier enjoys spending time with his family, members from his church and his voluntarism with Living Bridges Ministry where his efforts make a difference in the staff's lives and in the lives of the people the ministry serves.
"Franklin is an exceptional employee who sets the bar for all other employees to emulate. As a Maintenance Worker, Franklin works in every division in the Public Works Department and is valued immensely. In the past 24-months, Franklin has been nominated by his supervisor for the prestigious award of Public Works Employee of the Month as was selected on both occasions. He has worked as a host at the Woman's Building (rental property for private events) maintaining the cleanliness and security of the building," said Public Works Director Richard Hardy. "Franklin is a very dedicated and committed employee whose job performance consistently exceeds expectations. He demonstrates the same level of dedication day after day. He is a great asset to the Public Works Department and the City of Valdosta."
For more information, please contact the Public Information Office at 229-259-3548 or abecton@valdostacity.com.