Hicks and Pierce Named Employees of the Month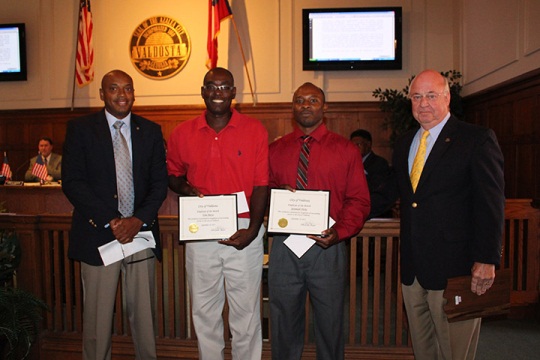 Valdosta Mayor John Gayle and Public Works Director Richard Hardy honored Jeremiah Hicks and Tom Pierce as the September 2015 Employees of the Month at the Sept. 10 City Council meeting. Hicks and Pierce each received a framed certificate and a check for $200, and their names appear on a plaque displayed in City Hall.
Hicks and Pierce are refuse collection drivers and have been employed by the city since 2014 and 2015 respectively. Hicks is responsible for operating a street sweeper to clean city streets and remove residue produced by curb and gutter crews and also performs maintenance on equipment. Pierce is responsible for driving the side-loader truck along a residential route, transporting refuse to the landfill and performing minor truck maintenance.
In early April 2015, while Hicks and Pierce were working the same collection route, they noticed a fire in the engine compartment of their truck. After calling 911, they utilized two fire extinguishers to douse the flames. When the Valdosta Fire Department arrived, the fire was completely extinguished. Because of the quick responses and actions of these two city employees, Hicks and Pierce saved the City of Valdosta the estimated $160,000 cost of a new refuse truck.
The City of Valdosta applauds Hicks and Pierce for being named the September 2015 Employees of the Month, an award they received for their ability to act quickly and appropriately in a dangerous situation, thereby protecting the City and its assets.