Kevin Jenkins, Ricky Hudson, and William Rich honored as November 2020 Employees of The Month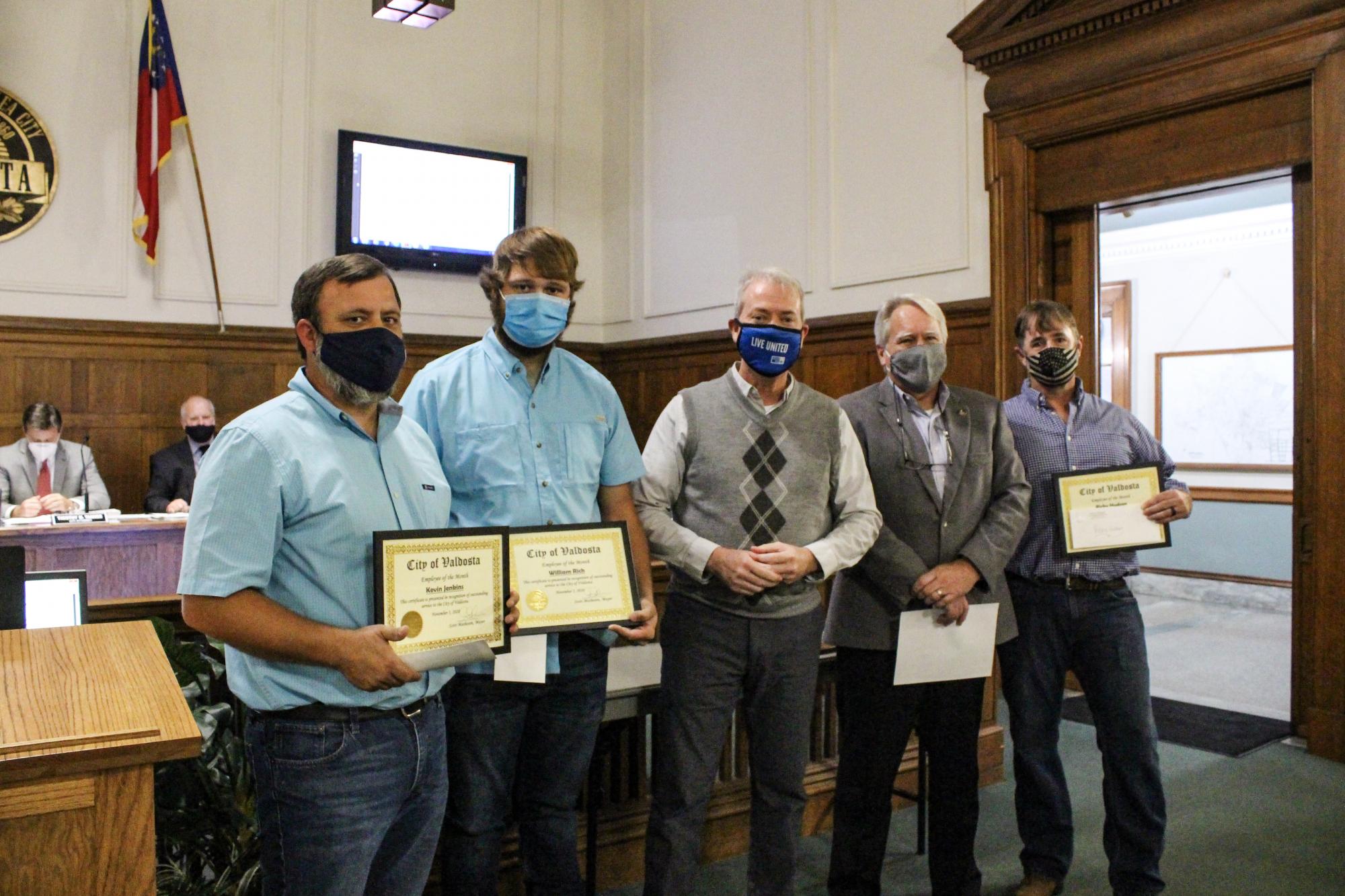 Valdosta Mayor Scott James Matheson and City Engineer Pat Collins honored Kevin Jenkins, Ricky Hudson, and William Rich as the November 2020 Employees of the Month at the City Council meeting on November 5. Each received a framed certificate and a check for $200, and their names appear on a plaque displayed in City Hall.
Kevin Jenkins, Ricky Hudson, and William Rich began their employment with the City of Valdosta in April of 2014, October of 2016, and December of 2017. They all currently work in the Arbor Division. These men strive to ensure the safety of our community through regular pruning, inspecting, and maintaining the City's urban forestry.
Stormwater Manager Angela Bray submitted the nomination for Kevin, Ricky, and William regarding a veteran whom they helped. On Tuesday, September 1, 2020, the Engineering Department received a telephone call from Mr. James Herring, a 96-year-old veteran who served in World War II. Mr. Herring resides on Rouse Road and was calling about a fallen tree on his property. Kevin Jenkins inspected the tree that afternoon and confirmed with Cindy Randall, Administrative Assistant for the Engineering Department, that the tree was on private property. As a veteran, Mr. Herring is on a fixed income, and with no help, Kevin took it upon himself to ask his crew if they would be willing to assist him after hours to remove a partially fallen pecan tree. Without hesitation, both Ricky and William volunteered to help. Kevin had his daughter bring his personal saws to him, and immediately after work, the crew drove their own vehicles to Mr. Herring's house to remove the debris. All three men cut the pecan tree up and placed the pieces at the curb for Public Works to pick up.
The City of Valdosta thanks and applauds these men for their dedication, exemplary work ethic, and for being named the November 2020 Employees of the Month.