Leroy Paulo named October Employee of the Month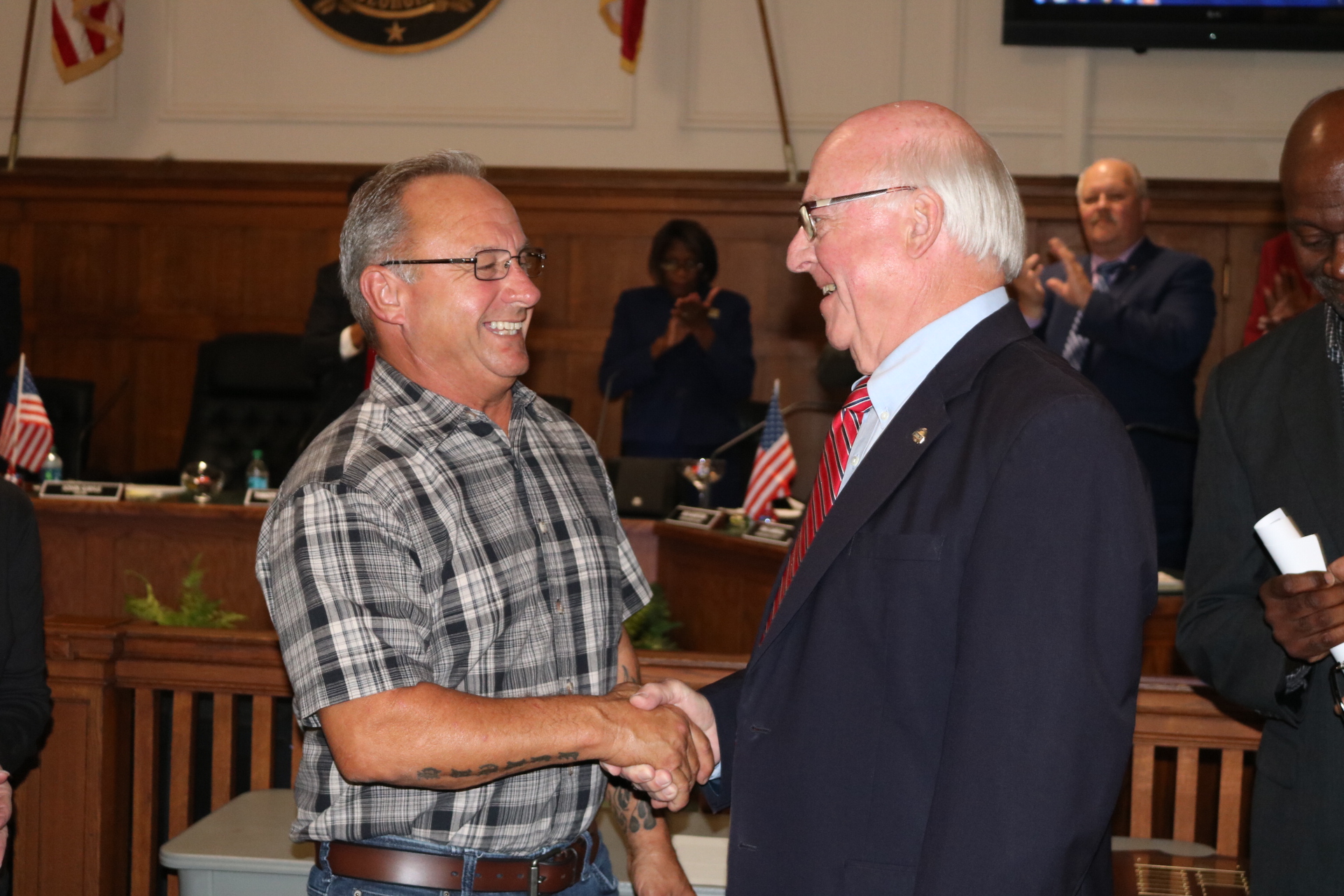 Valdosta Mayor John Gayle and Utilities Director Darryl Muse honored Leroy Paulo as the October 2019 Employee of the Month at the Oct. 24 City Council meeting. Paulo received a framed certificate and a check for $200, and his name appears on a plaque displayed in City Hall.
Leroy Paulo began his employment with the City of Valdosta in July of 2007 and presently assumes the position of Maintenance Supervisor. Leroy distinguishes himself as an outstanding and dedicated maintenance professional. He never hesitates to do whatever is required, ensuring safe Plant wastewater processing at the Withlacoochee Water Pollution Control Plant. One example was his leadership in replacing media fabric for all three large final treatment filters at this Plant. Leroy led a team of technicians in this project which had never been attempted at our facility. He accomplished this during the month of July, 2019 with temperatures reaching 100 degrees. The project was completed without error, preparing his Plant for increased inflows prior to heavy rains and potentially tropical storms. His determination to accomplish this without contractor support eliminated any potential for sewage spills that assuredly would occur due to the old worn out and clogged filter media. Leroy ensured the maintenance was done safely, professionally, and in a compressed timeframe. His attention to detail and strict adherence to all safety practices resulted in no employee injuries during a complex, tedious project.
Two additional examples of Leroy's dedication were his leading teams to build concrete pads for a new emergency pump installed at the Lakeland lift station and a new emergency generator installed at the Cherry Creek #1 lift station. These pads were custom-built for heavy equipment installations, saving the City money, training other City employees in the art of concrete finishing, and ensuring top quality end products for the citizens of Valdosta. These projects were accomplished with no degradation of attention to his primary responsibilities at the Withlacoochee Wastewater Treatment Plant.
Leroy always displays professionalism and is fully deserving of recognition for his devotion to duty and going beyond what his job description entails. The City of Valdosta applauds Leroy Paulo for demonstrating outstanding initiative, strong dedication, and for being named the October 2019 Employee of the Month.
-end-
For more information, contact:
Ashlyn Becton, Public Information Officer
Phone: (229) 251-4779
E-mail: abecton@valdostacity.com