Main Street Communities Team Up for Small Business Saturday Highway 41 Campaign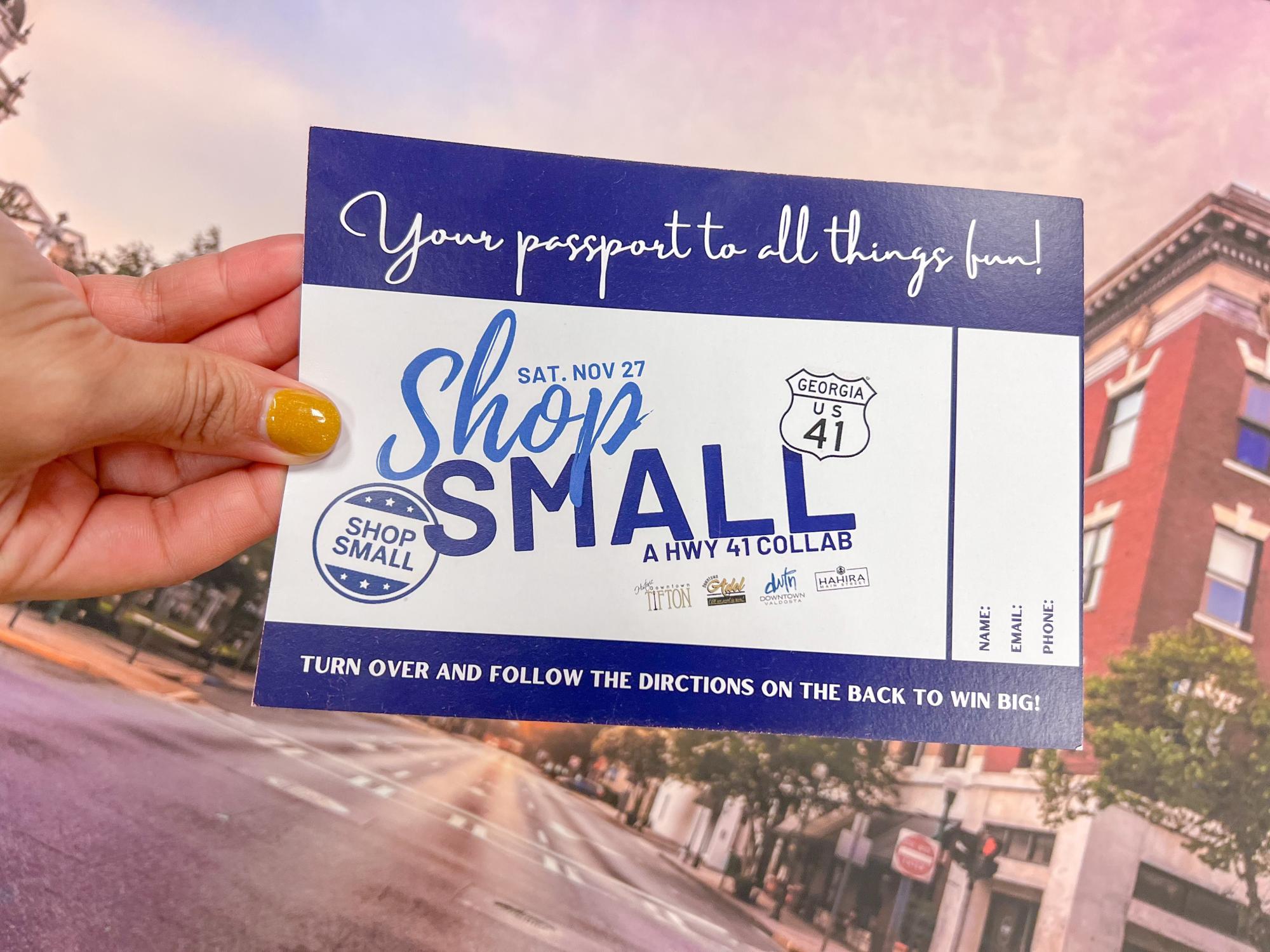 Downtown Valdosta Main Street is partnering with Downtown Tifton, Adel, and Hahira to bring shoppers a new event for Small Business Saturday. The communities are hosting a Highway 41 Collaborative Small Business Saturday Event featuring four downtown communities on one day with a BIG IMPACT!
While big-box retailers have Black Friday, Small Business Saturday is dedicated to showcasing and supporting local small businesses throughout the country. This annual observance began in 2010 and has become a national holiday campaign.
Main Street supports and celebrates the importance of shopping local. These businesses help to give Downtown a distinct personality that makes shopping and visiting here a unique and special experience.
"Downtown Valdosta is thrilled to be able to collaborate with the other downtown communities along Highway 41 in our region for Small Business Saturday, and we are excited to see amazing support from our local community and surrounding areas. This holiday shopping season is especially important for small, local businesses. They have been through some difficult times and Small Business Saturday is a way for the community to come out and show them that they appreciate their investment in our local economy," said Ellen Hill, Valdosta Main Street Director.
"The Highway 41 collab features the best of each community's downtown sectors and bolsters the local economy of South Georgia while preserving the traditions of the holidays. Small businesses are the heart of our communities," said Brandie Dame, Adel Main Street Director.
Each participating Main Street community will have a passport for shoppers to pick up on Saturday. Shoppers are encouraged to visit local businesses, shop small and get their passports stamped. All completed passports will be entered to win prizes, swag items and more!
Shoppers can pick up passports in Valdosta and Tifton at any of the participating downtown businesses. Hahira will have passports available at the Main Street tent located at the Train Depot. Adel will have passports available at the DDA Building or any participating downtown business.
The Main Street communities will promote Small Business Saturday with sales and swag that citizens will see Downtown:
Valdosta – Brunch and Browse from 10 a.m. to 12 p.m. Enjoy a little shopping while snacking and sipping your way through Downtown! Live music from 3 p.m. to 6 p.m. throughout Downtown.
Adel – Kick off the Downtown Days in a big way. Shopping, refreshments, local vendors and so much more!
Tifton – Get out and support local! Shopping, dining, giveaways, and door prizes to get you in the spirit of the Season!
Hahira – Celebrate Small Business Saturday in Downtown Hahira! Live music, vendors, in store discounts and deals, and more
American Express estimates an average of $0.67 stays in that business's local community for every dollar spent at a small business. This event has the potential to boost sales during the 2021 holiday season, with many small businesses still working to make up the revenue they've lost throughout the pandemic.
For more information about the event, visit valdostamainstreet.com or call 229-259-3577.