Marion McQueen named September 2019 Employee of the Month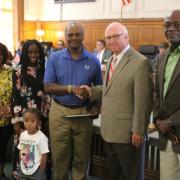 Valdosta Mayor John Gayle honored Marion McQueen as the September 2019 Employee of the Month at the September 5, City Council meeting. McQueen received a framed certificate, a check for $200, and his name will appear on a plaque displayed in City Hall.
Before beginning his career with the City of Valdosta, Marion McQueen spent 21 years of service in the United States Army where he was the E7 Unit Supply Specialist. In November of 2001, he joined the City of Valdosta as a Meter Reader. In 2002, his background and skills led him to the position of Warehouse Supervisor with the Utilities Department. Mr. McQueen is dedicated to his City and he is known for dependability and reliability, especially when administering tools and safety equipment to employees. Mr. McQueen goes above and beyond his service by being available after hours and weekends when needed, especially during inclement weather.
During McQueen's 18 years of service, he has taken an active role in giving back to the community. Marion has been instrumental in helping with fundraising efforts. The Utilities Warehouse has sponsored Wil Bowling, Baseball, Golf, and Tennis tournaments to benefit Relay for Life.
Marion is also co-operator of the 'Little Corner Store' located in the Utilities Department. The Little Store began as a way to provide provisions to help the men because they would often come in from the field, having missed lunch, or extremely hot and thirsty. They could leave an IOU and get a drink, cookies, or chips for .50 cents. After a while, the funds had grown which led to additional ideas to use the money. It was at this time that the 'Little Corner Store' began to donate to various charities throughout the City. Those groups include LAMP, the Police Department, The Haven, the Children's Advocacy Center, Relay for Life, and the American Heart Association. On average, these donations have exceeded $5000 per year.
Mr. McQueen has shown his commitment to his country and the City of Valdosta. We appreciate him for his outstanding service.