Mural unveiled in Downtown Valdosta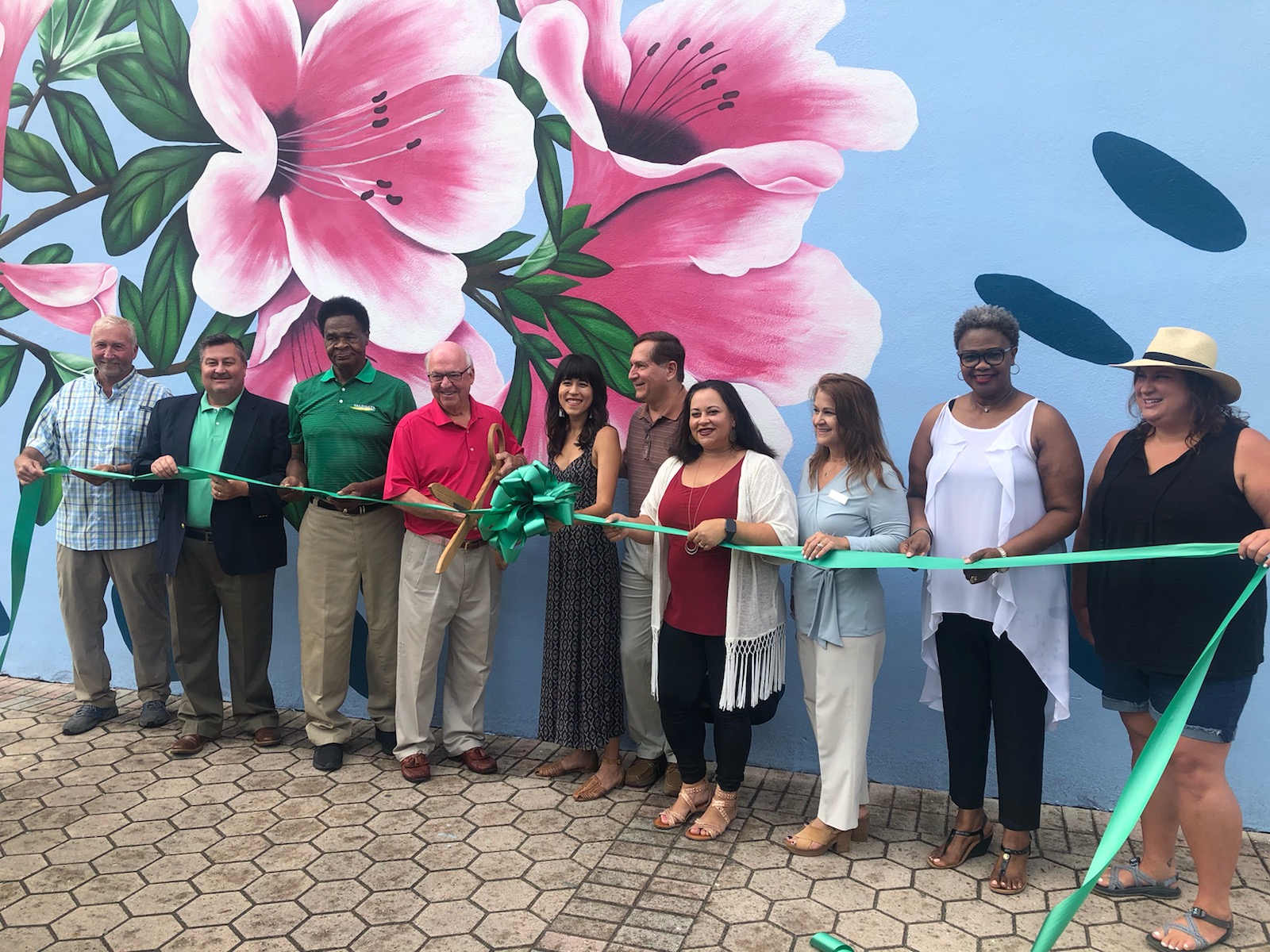 On Friday, June 7, 2019, City officials along with the Public Art Advisory Committee unveiled a new mural downtown. The mural is the first of its kind in downtown Valdosta. The mural was placed on the side of a downtown building owned by TC Brown. The mural is located at 136 N. Ashley Street.
"This is just an example of what the City of Valdosta and PAAC believe in, that when people ride through the town they recognize that the people of Valdosta are cognizant of the fact that we want to make downtown an inviting place to come to. Our downtown is vibrant and the City of Valdosta will keep putting funds into it to make sure it stays that way," said Valdosta Mayor John Gayle. "We want to continue to encourage visitors to our downtown, this new art project will do that."
"We are trying to take our downtown to the next level. Cities all across the country are starting to invest into public art murals in their downtown districts and we are thrilled to join them," said City Manager Mark Barber. "I am so proud to see the finished project. The new mural is perfect for downtown. It makes it extra special when a local person gets to come back home to do a project like this."
In early April, PAAC put out the call for artists in which many submissions were received by interested artists. Artist Janice Rago submitted three potential designs for the committee's judging. Ultimately, her design that featured Azaleas was chosen. Rago graduated from Lowndes High School before becoming a Blazer at Valdosta State University. She graduated from VSU in 2009 with an art degree.
Rago now lives in Atlanta but said it was exciting to return back to Valdosta to paint the mural downtown.
"I come from a military family, we moved to Valdosta in 2002. It really means a lot to me to be able to come back here and do a project such as this mural for the city. It's heartwarming." said Rago.
"The Main Street office as well as the entire Downtown Valdosta community are thrilled to have a new mural downtown," said Rachel Thrasher, Main Street Coordinator. "The PAAC really did an outstanding job collecting submissions and weeding through them to find one that really fit that space. We hope this is just the beginning for the downtown Valdosta mural scene, but we couldn't have asked for better for our first one. Janice is an amazing artist and really helped bring the azalea city to life! "
The City of Valdosta, Valdosta Main Street, and PAAC invite everyone to take pictures in front of the new mural and use the social media hashtags #DowntownValdosta, #ArtsValdosta, when sharing the photos.
If you have any questions or need more information, you can contact the Public Information Office at 229-259-3548 or abecton@valdostacity.com.