Second Bi-Annual Trash Amnesty Day Positively Impacts City Neighborhoods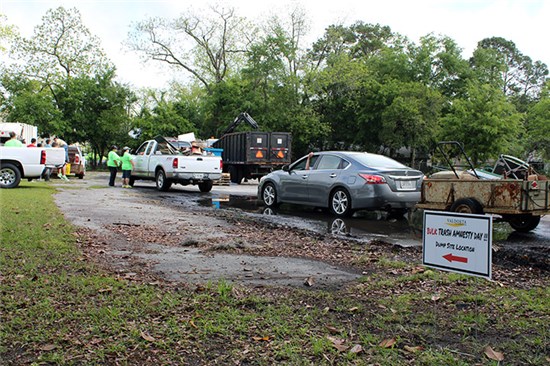 The City of Valdosta's Neighborhood Development Division hosted its second city-wide Bulk Trash Amnesty Day on April 23, which resulted in the collection of more than 40 tons of trash—nearly four times what was collected at the first Bulk Trash Amnesty Day held last fall.
This event, held in conjunction with the National Great American Cleanup and Georgia Cities Week 2016, provided citizens free opportunities to properly dispose of their unwanted trash, while also positively impacting city neighborhoods and the overall image of the city. Citizens took unwanted household items and other bulky trash items to four locations throughout the city, where city employees and volunteers helped to unload and dispose of the items.
Neighborhood Development Manager Vanassa Flucas said communicating with citizens about the service available through the Bulk Trash Amnesty Day was key to making the program a success.
"The City Marshals, Neighborhood Development and Public Works departments knew this service was needed, and Saturday's successful event was an indication of that need," Flucas said. "We look forward to presenting this event to citizens again in the Fall."
Funding for the event was provided through the U.S. Department of Housing and Urban Development's Community Development Block Grant (CDBG) program, allowing the event to take place at no cost to citizens.
Bulk Trash Amnesty Day is offered to citizens twice a year, in conjunction with the Make A Difference Day and the Great American Cleanup. The next event will take place on Oct. 22.
For more information on this event, contact Neighborhood Development at (229) 671-3617.