Top "If I Were Mayor" Essay Contest Winners Recognized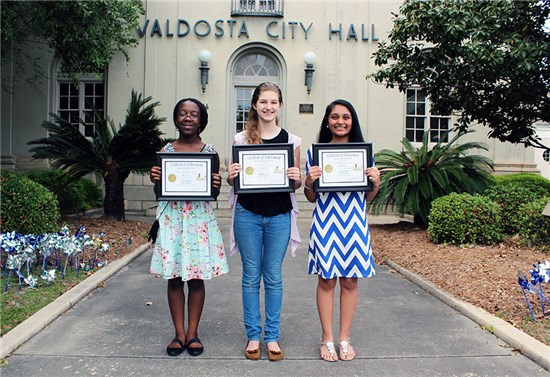 IN PHOTO (from left): Toni Salami, Kaightlyn Jowers and Deeya Patel
Valdosta Mayor John Gayle recognized the winners of the 2016 "If I Were Mayor" 6th Grade Essay Contest at the April 21 City Council meeting. The contest, sponsored by the Valdosta Youth Council, encourages local 6th graders each year to creatively use their language art skills and civics knowledge to express, in 350 words or less, how they would make a difference if they held the city's top elected position.
Several dozen local city schools students competed in the contest, producing some award-winning essays and well-thought out ideas for our community.
This year's winners are all students of Mrs. Whitfield's class at Valdosta Middle School. The following students read their winning essays at the meeting in front of the mayor, city council members and others in attendance. View the winning essays.
1st Place— Toni Salami
2nd Place—Kaightlyn Jowers
3rd Place—Deeya Patel
The city congratulates these student winners and all the participants in this year's contest. For more information, contact Public Information Officer Sementha Mathews at 229-259-3548 or at smathews@valdostacity.com.