Valdosta Police and Fire Departments accept Check Donation from Valdosta-Lowndes Cornhole Charity Tournament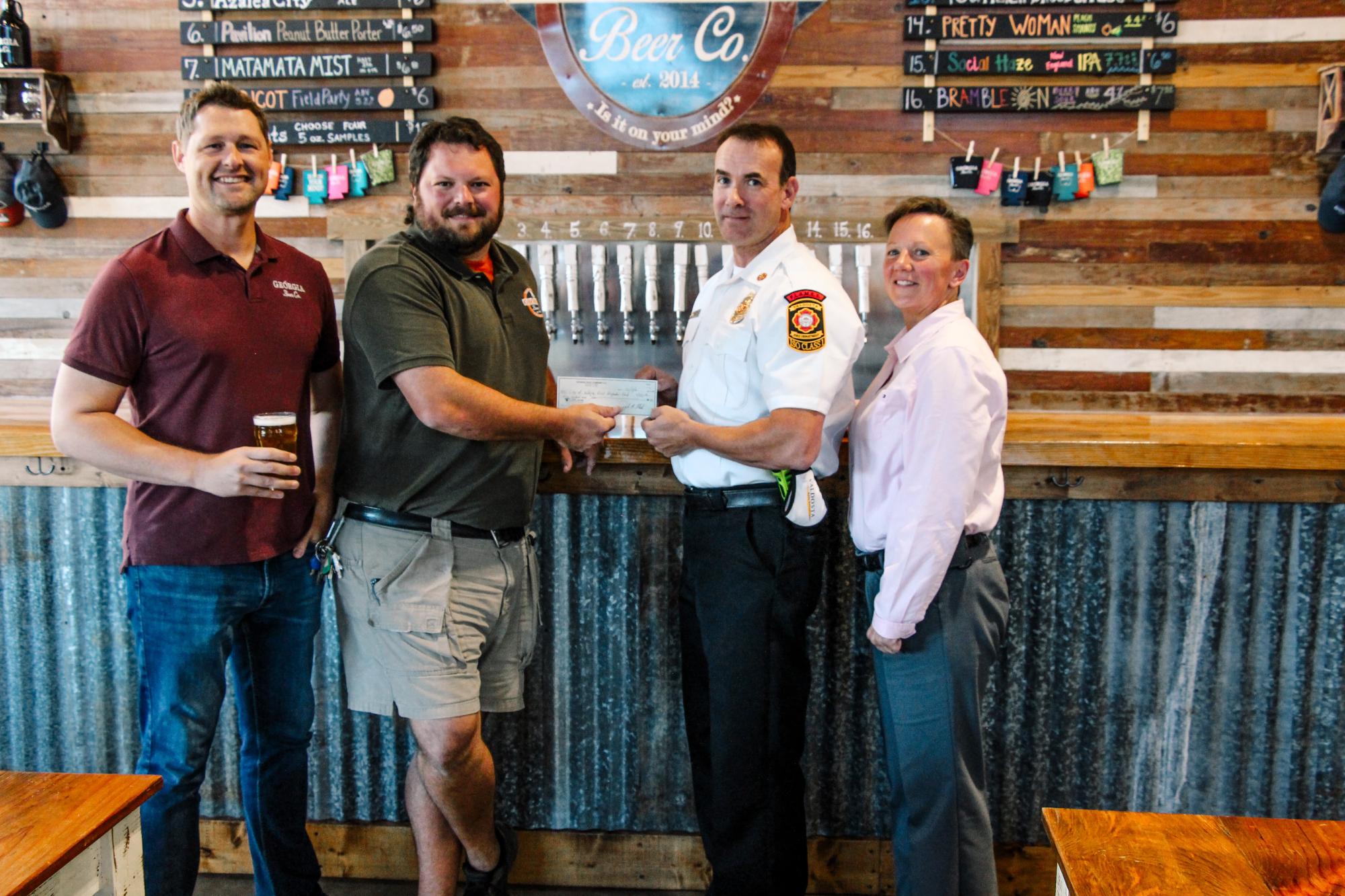 Last week, Police Chief Leslie Manahan and Fire Chief Brian Boutwell accepted a check donation from Georgia Beer Company and 8 Finger Jack Food Truck for the recent Valdosta-Lowndes Cornhole Tournament. More than $800 was raised during the event and will now be put into the City of Valdosta First Responder fund, benefitting the four first responders injured in the July 12 incident on Madison Highway.
More than half of the money raised came from partial proceeds of beer sales during the event at Georgia Beer Company on Saturday, October 9. "One of our missions is to put our beer to work and make our community a better place to live. When we were approached about this event, it was right up our alley. Especially helping a group of our first responders that were injured on the job. We also enjoy seeing our city and county working together is something we are always really proud of," said Chris Jones, Georgia Beer Company, Co-founder and Director of Business Development. "Our public safety departments make a huge sacrifice putting themselves in harm's way every day and this is just a small way that we can say thank you."
The cornhole tournament was organized by Councilmembers Eric Howard and Andy Gibbs and featured more than ten teams made up of individuals from the Valdosta Police Department, Valdosta Fire Department, Lowndes County Board of Commissioners, and the Valdosta City Council. Various staff from both the city and county also participate. Residents and Visitors at the brewery during the event took part as well. The winning team was Robert Renfroe and Brett Boyd with the Valdosta Police Department Training Unit.
"We are very thankful for the entire event, Georgia Beer Company and 8 Finger Jack Food Truck for the contributions to our injured first responders. This just solidifies the fact that our community comes together to support our public safety," said Fire Chief, Brian Boutwell.
For more information on the First Responder Fund or the Cornhole Tournament, please contact the Public Information Office at 229-259-3548.