VPD Detective Christopher Hicks honored as November 2019 Employee of The Month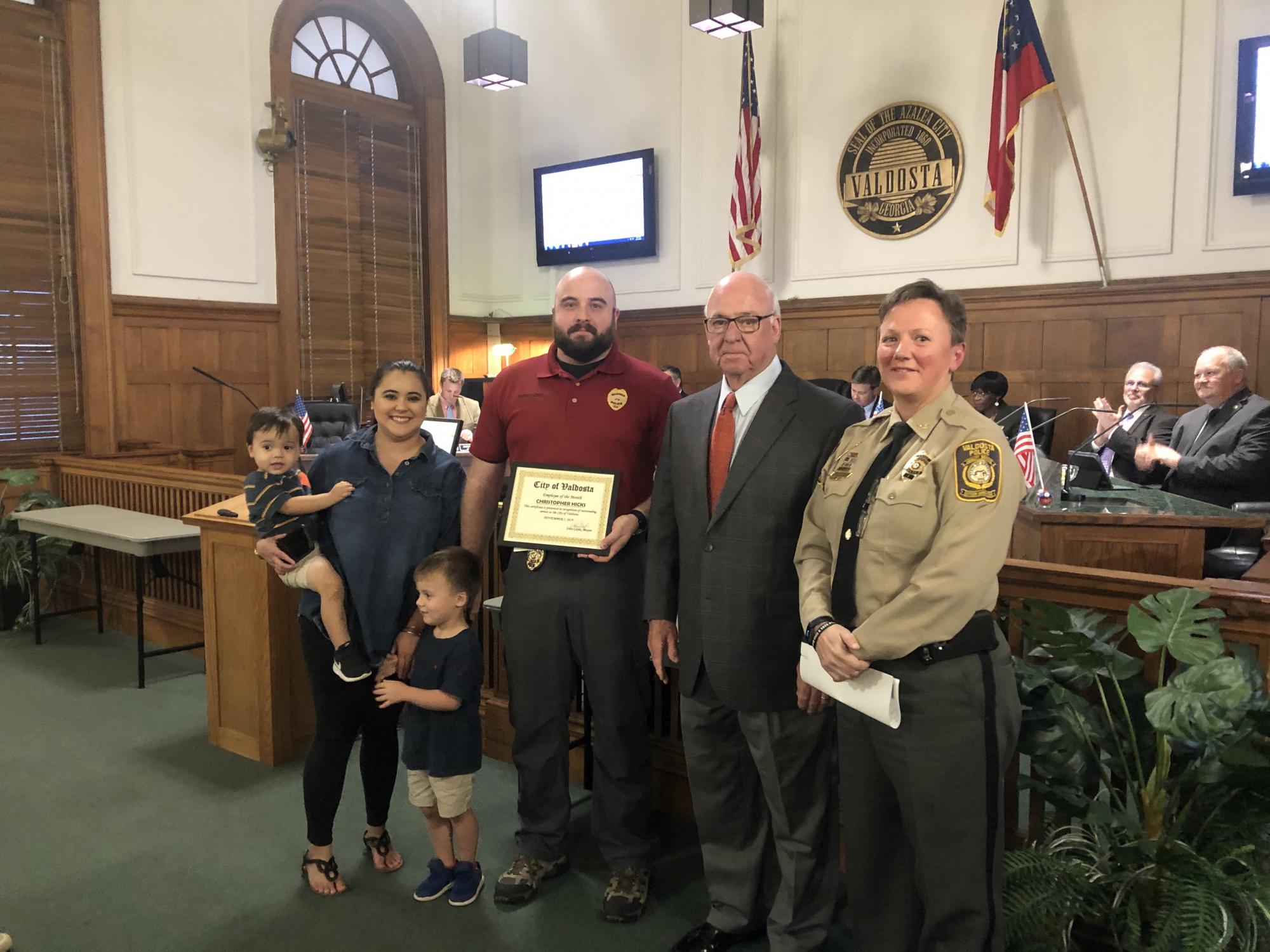 Valdosta Mayor John Gayle and Police Chief Leslie Manahan honored Central Detective Christopher Hicks as the November 2019 Employee of the Month at the Nov 7 Council meeting. Hicks received a framed certificate and a check for $200, and his name appears on a plaque displayed in City Hall.
Christopher Hicks began his career with the Valdosta Police Department in June of 2011 and currently holds the rank of Detective. Detectives are responsible for conducting criminal investigations to identify and apprehend offenders.
On August 28, 2019, Lt. Kyle Salter was notified by Det. Jason Woods that Det. Kaitlyn Hardy and Det. Chris Hicks were conducting a follow-up criminal investigation at a local convenient store. Det. Hicks observed three minor children outside the store. Det. Woods advised that the children appeared to be attempting to offer to perform labor at the hair salon next door for money. Detective Woods explained that he and Det. Hardy entered the store while Det. Hicks approached the children outside. Detective Woods related that moments later, all three children entered the store and selected drinks, snack cakes, chips, and candy. Detective Woods stated that Detective Hicks then purchased the items for said children, totaling approximately $30. Upon learning this, Lt. Salter later made contact with Det. Hicks and inquired of the encounter. Det. Hicks stated that after speaking with the children, it was obvious that the children were attempting to get money and may be hungry. Det. Hicks advised that he is aware that many children often are not able to receive enough food each day and, therefore, he offered to allow these three minor children the opportunity to select whatever they wanted in the store to eat.
As a law enforcement officer, it is their sworn duty to serve the public and Det. Hicks truly reflects law enforcement and the City of Valdosta's commitment to the community. The kindness shown by Det. Hicks to these children helps shed a light to the public on the mission of the Valdosta Police Department and the City of Valdosta.