VPD holds Open Testing on Dec 7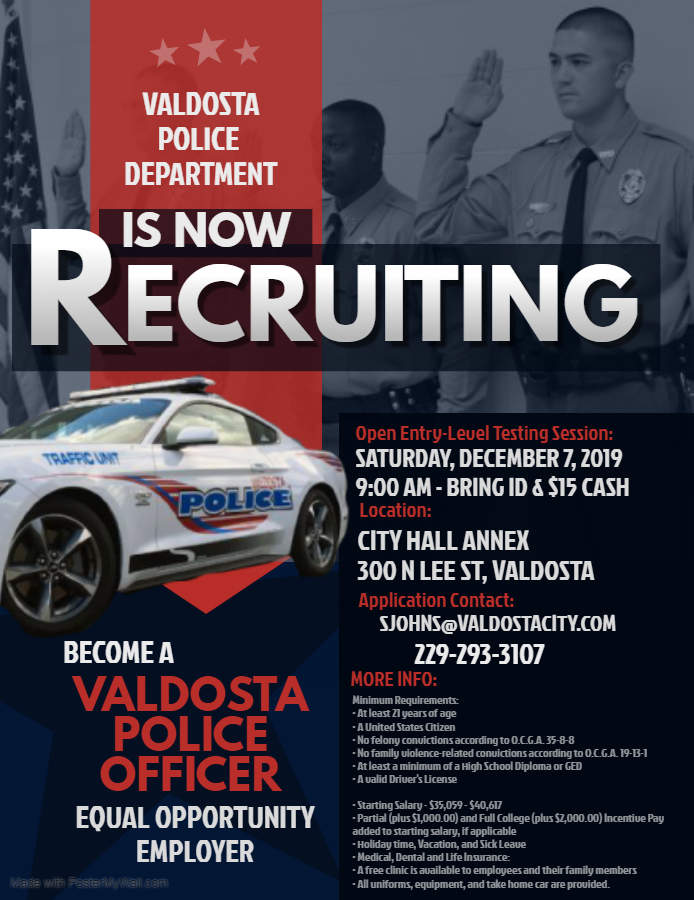 Valdosta Police Department is Hiring. They are holding an open testing on Saturday, December 7, 2019 at 9 am. This is the FINAL testing for the April 2020 Police Academy. The testing will be at Valdosta City Hall Annex, 300 North Lee Street. This test is the initial stage of the hiring process and it could lead to a fantastic career in Law Enforcement at one of the finest Police Departments in the nation. VPD offers a competitive salary, great medical and retirement benefits.
Minimum Requirements:
Applicant must be at least 21 years of age.
Applicant must a Unites States Citizen.
Applicant cannot have any felony convictions according to O.C.G.A 35-8-8
Applicant cannot have any family violence-related convictions according to O.C.G.A 19-13-1
Applicant must have a High School Diploma or GED.
Applicant must have valid Driver's License.
For information on the process and benefits email Lieutenant Scottie Johns at sjohns@valdostacity.com or call him at 229-293-3107.