Valdosta Celebrates Georgia Cities Week 2017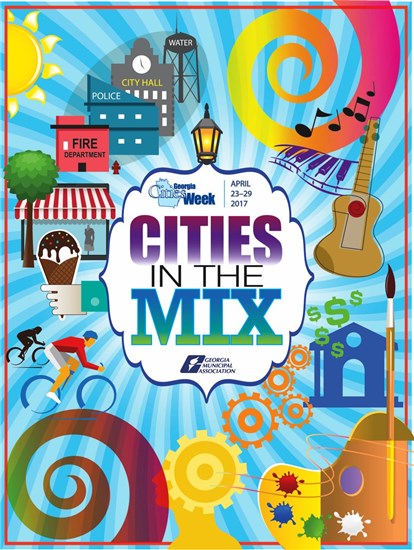 The City of Valdosta will celebrate Georgia Cities Week, April 23-29, with a variety of events throughout the week. The theme this year is "Cities in the Mix," which spotlights Valdosta's important role in creating community gathering spaces and driving economic development. The week also provides opportunities to show appreciation to our residents, public servants and city employees who serve the community year-round.
"We are proud of our city," said Mayor John Gayle. "Georgia Cities Week provides the perfect setting to be reminded of the positive steps we have taken and to invite our citizens to play an active role in the betterment of our community."
Under the leadership of the Georgia Municipal Association, this marks the 18th year Georgia Cities Week has been celebrated across the state. Valdosta's celebration will kick off a few days earlier to include events that are traditionally a part of the weeklong observance. Local events will include:
Thursday | April 20
City Council Meeting/Announcement of "If I Were Mayor" Essay Contest Winners—
Mayor John Gayle will announce the 1st, 2nd and 3rd place winners of the "If I Were Mayor" sixth-grade essay contest at the City Council meeting, among other city business. The meeting will begin at 5:30 p.m., at Valdosta City Hall, located at 216 E. Central Avenue.
Saturday | April 22
Great American Cleanup & Bulk Trash Amnesty Day—
Participate in two community cleanup events, from 9 a.m.-12 p.m. Volunteers will meet at the Valdosta City Hall Annex, Lee Street Parking Lot. Call 229-671-3617.
Outdoor Family Movie Night—
Bring the family to watch "The Lorax," beginning at 7:30 p.m., on Valley Street behind the Historic Courthouse. Admission is free, and concessions may be purchased on site. Bring lawn chairs or blankets.
Monday | April 24
Public Servants Appreciation Breakfast—
This event will recognize the work performed by all who serve on the community's 22 Boards, Authorities, Commissions, and Advisory Committees to which the city appoints members. It will take place from 7:30-8:30 a.m., at Birdie's Market, located at 206 N. Patterson Street.
Customer Appreciation Day—
Customers may browse city information on display at the Customer Service Center, from 8 a.m.-4 p.m., while enjoying some complimentary refreshments. The Customer Service Center is located at 102 N. Lee Street.
Tuesday | April 25
City Blood Drive—
Give the gift of life at the American Red Cross City Blood Drive, from 10 a.m.-3 p.m., in the Valdosta City Hall Annex Multi-Purpose Room.
CDBG Ribbon Cutting—
Valdosta will cut the ribbon at 11 a.m. on a newly reconstructed home at 707 North Troup Street, built utilizing Community Development Block Grant (CDBG) funding.
Wednesday | April 26
Job Shadow Day—
Forty students from Valdosta High School Advancements via Individual Determination (AVID) program will job shadow city department heads and give presentations to the Mayor, City Council members and staff at a luncheon. The event will take place from 8:30 a.m.-1 p.m.
Thursday | April 27
City Employee Appreciation Luncheon—
City officials will serve lunch, 11 a.m.-1 p.m., to city employees at John W. Saunders Memorial Park to show their appreciation for the work city employees do year-round.
Youth Leadership Explosion—
Sponsored by the Valdosta Youth Council and the John Maxwell Leadership Team, this event will allow VYC members to address their anti-bullying initiative and to remind their peers of their purpose within this growing community. The event will take place from 4-6 p.m. in the Valdosta City Hall Multi-Purpose Room. Reserve seat by calling 229-259-3548.
Friday | April 28
Coleman Talley Groundbreaking @ Southern Salvage—
The law offices of Coleman Talley LLP will host a groundbreaking, at 10 a.m., as it begins the renovation of the historic Southern Salvage building, located at 109 & 111 S. Ashley Street. The historic structures will become the home office of Coleman Talley, a firm started in Valdosta in 1937. The renovation and relocation of approximately 60 lawyers and staff represents the second largest private investment in the Historic Valdosta Commercial District.
Valdosta Click 'N Fix Lunch & Learn—
Discover how to play a more active role in our community through the efficient use of the Valdosta Click 'N Fix mobile app. This workshop will take place in the Valdosta City Hall Multi-Purpose Room, from 12-1 p.m. Reserve seat by calling 229-259-3548.
Georgia Cities Week is sponsored by the City of Valdosta and the Georgia Municipal Association to showcase and celebrate cities and the many services they provide. For more information about Georgia Cities Week activities or Valdosta city services, contact Public Information Officer Sementha Mathews at 229-259-3548 or visit www.valdostacity.com. Residents are also encouraged to sign up for the weekly E-news blast and to follow the events on the city's Facebook, Twitter or YouTube sites.